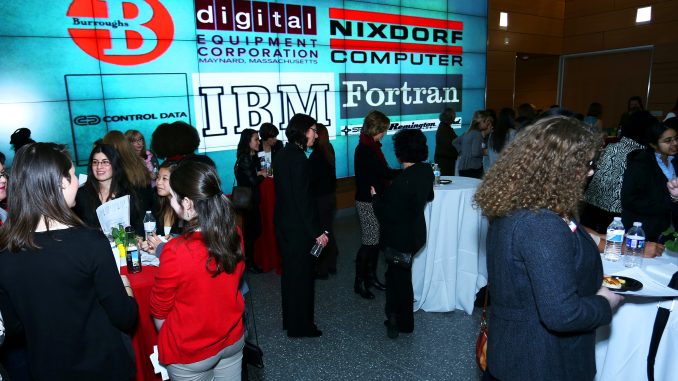 In the technology industry, the number of male workers is nearly twice as high as the number of female workers, and computer science degrees for women are down 19 percent since 1985, according to statistics compiled by the U.S. Department of Education.
Check Out Tech, a program hosted by the College of Science and Technology, was designed with such statistics in mind. Check Out Tech, as well as the Network of Women with Careers in Technology, was created to expose female students of all majors to the advantages of incorporating technology into their skills.
"I'd like to see more female students across the university take a step back and look at adding technology to their skillset," said Rose McGinnis, director of career services & undergraduate research program at the College of Science & Technology.
On Feb. 3, the program united nearly 30 women with careers in the field of technology and students from Temple and other Philadelphia colleges to provide them with information about careers in the field. About 25 percent of the career women in attendance were Temple alumni.
Students utilized a passport system to meet professionals and were able to enter raffles once they met women in their field of study.
"The professionals were enthusiastic and loved interacting with such wonderful and talented students," said Wendy Urban, an information sciences and technology instructor.
She added that "[female students] don't learn enough" about options available to them in technology. She said she believes many women see technology careers mainly as coding jobs and don't consider the fact that there are more options available.
McGinnis added that many women have the skills necessary for these careers, as shown by the fact that 46 percent of students who take the Advanced Placement calculus exam are women, but are not able to go further. Approximately 20 percent of those female AP calculus test takers will advance to a computer science class at the college level.
"Take whatever your major is, add technology to that … your value as an employee is drastically better," McGinnis said.
McGinnis said all the professionals contacted were very interested in Check Out Tech and speaking to students about the values of technology.
"It's a really good example of our professionals' [relationship] to our students," she said.
Check Out Tech will also provide information regarding a minor or certificate in a technology field. The program stresses that its goal is not to convert students from majors they are passionate about, but to help them consider their options and the benefits of expanding their skillsets. These skills can open paths to more creative and less traditional careers for women as well.
Urban said one does not have to have a degree in a technology field to enter into a career utilizing technology.
Half of the women in attendance did not have degrees in technology, yet work in the field of technology.
McGinnis stressed that the event is not a formal one with speakers and a strict format.
Having so many professionals in attendance provided the students the opportunity to make connections they might not otherwise have found.
 "Having 35 professional women to talk with was very valuable. Networking skills are key to success in the future," Urban said in an email.
For now, Check Out Tech was a one-time event, Urban and McGinnis believe that it has potential to continue in some form in the future, possibly as a mentoring program continuing the event's goal of exposing women to options in technology.
Regardless of where the program goes in the future, McGinnis plans to continue with it.
"Our biggest goal, what we do every day, is education," she said.
Vince Bellino can be reached at vince.bellino@temple.edu