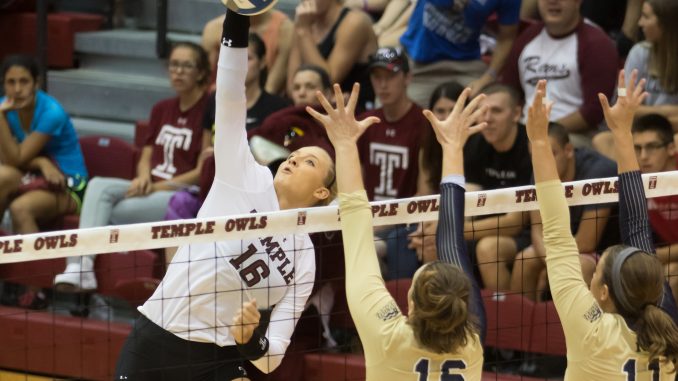 Right as spring practice started in preparation for her senior season, Izzy Rapacz received an invitation to participate in a tryout for the U.S. Women's National Team in the beginning of March.
Rapacz is the first Temple player to be invited to tryout.
"I think this is a great experience for Izzy to play and compete with best players in the country," coach Bakeer Ganesharatnam said. "I have no doubt she represented Temple well in front of the national team staff."
The tryout spanned three days in Colorado Springs, Colorado. Rapacz was one of three players from the American Athletic Conference to be invited for the tryout. Southern Methodist redshirt-senior outside hitter Katie Hegarty and Cincinnati sophomore outside hitter Jordan Thompson also competed.
"It was pretty cool to represent the conference, and compete with some of the best players in the country," Rapacz said. "Our conference is definitely gaining more recognition, especially with Cincinnati earning an at-large [NCAA tournament] bid last season."
Rapacz was born in Poland but has lived in the United States for almost her entire life, which is why she was eligible to tryout for Team USA. She grew up in Glenview, Illinois and graduated from Glenbrook South High School in 2014, where she was an all-conference selection after leading her team in kills.
Rapacz still has use for her dual nationality. Her mother Dorota played professional volleyball in Poland, and her father Grzegorz played professional soccer there.
"I want to play professionally in Europe after my time at Temple is done," Rapacz said. "So having connections in Poland is something I can use, but I was honored to have to chance to try out for America."
More than 200 athletes tried out for the Team USA, including 30 opposites.
After the tryout ended, Rapacz returned to Philadelphia and rejoined the team for spring practice. She is still waiting to find out if she made the team or not. She expects to know by the middle of April because the first tournament for the team she tried out for is the first week of May.
But for the time being, Rapacz is focused on working with her teammates for her upcoming senior season. Rapacz earned first-team all-American Athletic Conference honors after her junior campaign.
Rapacz finished the 2016 season second on the team with 349 kills, only behind senior outside hitter Irem Asci. In her junior season, Rapacz reached career-highs in kills and digs. She finished with 308 digs.
Temple, which last competed at the NCAA tournament in 2002, had its third straight season with at least 20 wins, but just missed out on an at-large bid. Rapacz hopes to use her experience in Colorado to help her team take the next step.
"Everything the coaches on the national team taught me, I'm excited to bring back to show my teammates and make everyone even better," Rapacz said. "I'm just looking to set an example for all the younger players that they can do this too. I really want to do whatever I can since it is my last season here."
Kevin Schaeffer can be reached at kevinschaeffer@temple.edu or on Twiter @_kevinschaeffer.