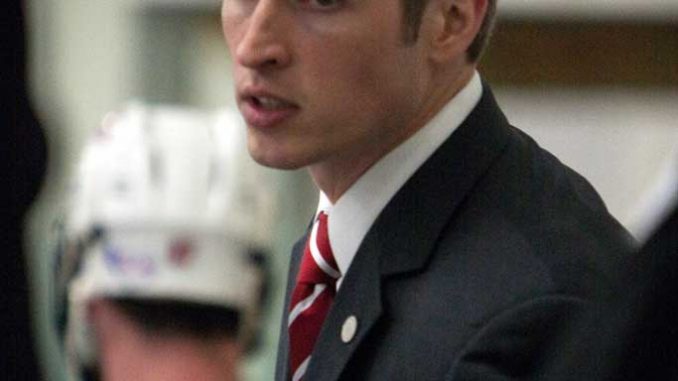 From his Northeast Philadelphia roots, his Philadelphia sports loyalties, all the way down to his decade-long affiliation with Temple, there's no doubt Jerry Roberts is a "Philly guy."
The fourth-year coach of Temple's ice hockey club has also been a hockey guy since he was young.
Roberts said he attended Philadelphia Flyers games as a season-ticket holder in his youth and began practicing the sport when he was 5 years old, solidifying hockey as a life-long staple.
Roberts would go on to play for the Wintersport Royals of the Delaware Valley Hockey League and eventually for Roman Catholic High School. A tough-luck senior year spent battling illness and injury kept Roberts sidelined. Therefore, hockey sat low on the priority list when it came to his college decision.
"I started my senior season at [Roman Catholic] with [Mononucleosis] and then I broke my wrist right after I came back," Roberts said. "I was out from September all through January or February, so no one was very interested in me."
"My college decision had nothing to do with hockey," Roberts added. "Temple offered me a scholarship, and that makes your decision for you. When I was at Temple I just tried out and joined the [ice hockey] team."
Roberts donned the Temple uniform for five years until graduation following the 2006–07 season.
"I was the character player on the team," Roberts said. "I didn't get as much ice time as some other guys, but I was the team player kind of guy."
While he wasn't one of the guys lighting up the score sheet every night, Roberts said his five years in a Temple uniform were some of his best.
"It was the most fun I probably ever had," Roberts said. "Not even with hockey, but just with being with the guys for such a long time. Being a part of ice hockey at Temple was a critical contributor into me turning into a young adult."
Working for Campus Recreation for a few years helped that transition as well. Roberts took up a full-time position as student services coordinator after graduation, a job Roberts described as "business administration-type stuff." He handled access and deposits to Temple facilities such as IBC Recreation Center and the Student Pavilion for Campus Recreation's sport clubs.
During his time at Campus Recreation, he also stuck around his old team, recruiting and scouting on the side for former coach Aaron Voegtli.
Voegtli resigned with Temple following the 2008–09 season in order to take up a coaching position with Mid-Atlantic Collegiate Hockey Association rival University of Maryland-Baltimore County.
Roberts was the man waiting in the wings.
"When [Voegtli] left, I was in the right place at the right time," Roberts said. "With Campus Recreation having such a huge emphasis on student development and player safety, I think they probably felt most comfortable having someone they knew in that [coaching] role. I think it was the fact that they could trust me."
It wasn't too long before the Temple players adjusted to Roberts' more simplified system on the ice.
"There definitely was a difference," senior defenseman Andrew Trainor said. "He simplified the game for our entire team. Under [Voegtli], we had five different game plans. Each line was running at five different forechecks and [Roberts] streamlined it, running one type of forecheck for everybody. Everyone was doing the same thing and running the same type of forecheck and doing that made it easier to run correctly and successfully."
The team made the American Collegiate Hockey Association national tournament for the first time in program history in Spring 2011, Roberts' second year at the helm. At the time, reaching nationals was the pinnacle for everyone involved.
Assistant coach Ryan Frain played under Roberts for two seasons, his last being the nationals-clinching year.
"[Roberts] was the one who always put goals in front of us for bigger and better things," Frain said. "[Roberts] cares a lot about this club. His drive and his passion, players feed off it and you can tell. That's a big thing. It keeps the players motivated because they don't want to let [Roberts] down and he doesn't want to let our players down. He's a big part of our continued success from year to year."
Maintaining a strong relationship between player and coach has helped, as Roberts has been deemed a "player's coach" by some who played or still play under him.
"He's definitely a player's coach," Trainor said. "He talks to me and [team captain Jordan Lawrence] all the time about what we can improve on, what the team can improve on and what the players think needs to change. He looks for advice from us, which makes it easier for everybody."
"[Roberts] has a really good relationship with a lot of players," Frain said. "There comes times where [Roberts] needs to put his foot down and keep them in line and players respect that. He's there for the guys and it's a big family here."
For now, Roberts is right at home with the team and "family" he has been a part of for the better part of 10 years.
"Somewhere between my first shift and my second shift as a player, I knew I wanted to be involved in this team for a long time," Roberts said. "It's addicting. The people you interact with and the fact that you're doing it with hockey makes it a lot of fun. I didn't know if coaching was really my future when I was a player, but I knew somehow and someway I wanted to be involved with this team for a long time."
Andrew Parent can be reached at andrew.parent@temple.edu or on Twitter @daParent93.