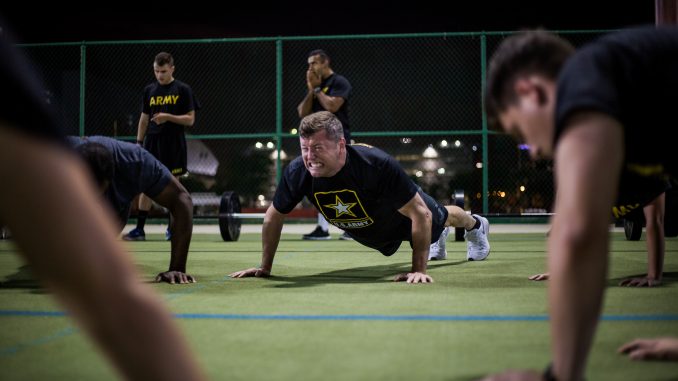 The sun had not yet risen when Temple ROTC cadets lined up across Geasey Field at 5:30 a.m. to prepare for their Friday physical readiness training. The only light was coming from the field's lights as the cadets waited for what was to come.
U.S. Army Under Secretary Patrick Murphy, the force's second-highest-ranking civilian official, led a physical readiness training session with the staff and cadets of Temple's Army ROTC program last Friday.
Murphy visited Temple as part of his trip to Philadelphia. He regularly conducts PRT with Army units when he is traveling.
The training program, planned about a week in advance, was not considered too out of the ordinary.
"The Army ROTC program at Temple regularly conduct Physical Readiness Training on Monday, Wednesday, and Friday mornings," Lt. Col. Gregory J. Nardi, a professor of military science at Temple, wrote in an email.
The PRT started out with the cadets taking their usual formation in groups lined up across the field, accounting for everyone's attendance, before moving into the scheduled training.
The cadets then split off into groups moving from exercise to exercise in the company of Murphy. The exercises included activities like pullups, pushups, lifting, running and squats.
"Today it was a great PT session with the future leaders of our Army," Murphy said. "And to see the Diamond Battalion here grow 20 percent in the last few years, to see so many of these cadets earn scholarships, and that are going to be leaders of character for a lifetime of service, is pretty inspiring."
After the attacks on 9/11, Murphy served two overseas deployments — one in Bosnia and Herzegovina and another in Iraq. In Iraq, he lead a Brigade Operational Law Team. His service earned him a Bronze Star, which is awarded to U.S. military members who achieved heroic or meritorious actions.
Murphy was also the first Iraq War veteran elected to the U.S. Congress when he represented the Eighth Congressional District of Pennsylvania from 2007 until 2011.
Murphy was accompanied by Marcus Allen, a Temple alumnus and current CEO of the Big Brothers Big Sisters Southeastern PA. Allen is an Army veteran, and participated in the PRT with the cadets.
"It was great to have someone who has such an influence and who is also a Temple alumnus come out and see what we're all about here at Temple ROTC," said Bryce Claudio, who is studying criminal justice and law and is in the university's ROTC program.
Many cadets said they were thrilled to have the opportunity to have a training session in the company of Murphy.
"It was awesome," said Olivia Das, a biophysics and geology major. "I did not mind waking up early at all. This was great … I love experiences like this."
Allen appeared not only to do some PT, but also to try and encourage some of the male ROTC members to become a Big Brother for Big Brothers Big Sisters.
"We always have a deficit of Big Brothers," said Calista Condo, a school-based enrollment specialist and supervisor for Temple's student board for Big Brothers Big Sisters. "So we have a lot of Little Brothers on a wait list waiting for their Big Brothers. But for some reason men don't volunteer as willingly as women do. We're here today to try to maybe help bridge that gap, show ROTC that they could be involved."
There are a total of 275 Army ROTC programs throughout the 50 states, District of Columbia, Puerto Rico, and Guam. The Army ROTC program prepares the cadets to be Officers in the U.S. Army, and more than 70 percent of the second lieutenants who join the active Army, the Army National Guard, and the U.S. Army Reserve come out of the Army ROTC program.
"This is our 100 year anniversary of Army ROTC," Murphy said. "To see a great program like here at Temple do so well year after year warms my heart, considering I grew up in a rural house in Philadelphia and a lot of these young guys and gals are from my neighborhood."
Brianna Cicero can be reached at bcicero@temple.edu.