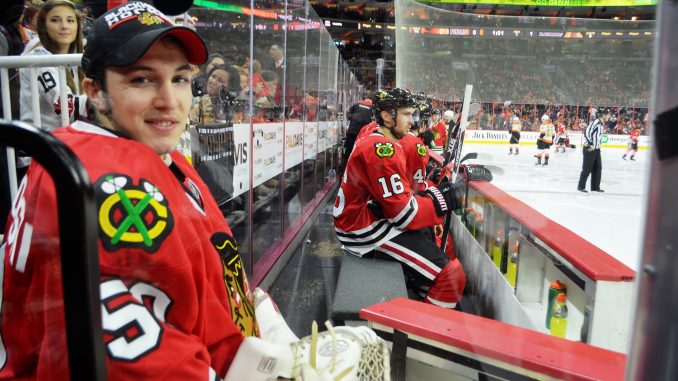 Former Temple goaltender Eric Semborski served as an emergency backup in the Philadelphia Flyers' 3-0 win against the New Jersey Devils on Saturday at the Wells Fargo Center.
Semborski had to leave the press box and go to the Flyers' bench when goaltender Michal Neuvirth collapsed in the crease while awaiting a faceoff less than halfway into the first period. The training staff stretchered Neuvirth off the ice before he was taken to Pennsylvania Hospital. Neuvirth has a chest cold and passed all of the doctors' tests but will not travel with the team to New York for the Flyers' game against the Rangers on Sunday.
Flyers goalie Michal Neuvirth has a chest cold – all tests at hospital check out ok

Neuvy will NOT go with team to New York (Rangers Sun) pic.twitter.com/gsw3TNa7Nv

— Jeff Skversky 6abc (@JeffSkversky) April 2, 2017
Semborski, a 2015 sport and recreation management alumnus, previously served as an emergency backup for the Chicago Blackhawks during their game against the Flyers on Dec. 3.
Evan Easterling can be reached at evan.easterling@temple.edu or on Twitter @Evan_Easterling. Follow The Temple News @TheTempleNews and @TTN_Sports.