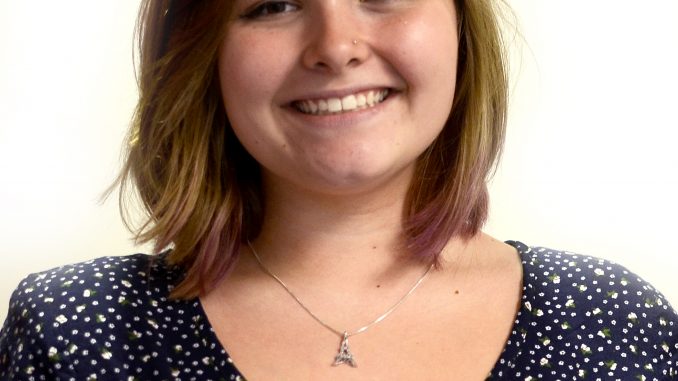 Inhale. Exhale. Repeat.
Breathing is all the rage these days, and it's the remastering of the art that Melanie O'Neill is studying.
After being on my feet for the past 10 hours, I graciously accepted the seat O'Neill offered me in the planetarium of the Franklin Institute – no ifs, ands or buts about it.
"Hold still," O'Neill said, clipping a small black device to my earlobe, "and take a deep breath."
The kick-off party for the Philadelphia Science Festival on April 25 was a scientific playground for adults, where O'Neill and her colleagues from Widener University were stealing people from the festivities for a few minutes to illustrate the relationship between breathing patterns and stress by using their own bodies.
Who thought biofeedback would be so fun? O'Neill crouched down to my level, giving a play-by-play science lesson as I followed a rhythmic breathing pattern.
Carbon dioxide is a natural relaxant, she said, "and all you have to do is let it go." It was easier to relax than expected, being hooked up to a machine and all. Starting out with a stress level of 97 – out of 100, ouch – the looming exams and term papers simply melted away. In just a few minutes, O'Neill accomplished an astonishing feat.
The levels dropped from 97 to 4. Remember to breathe, people.
The 21+ party wasn't all about low energy, however. It was hard to tell which was louder – the bustling crowd that came to the event or the startling explosions that could be heard in all directions.
To get things started, Jackie Schnieder and Sarah Rowley gathered a crowd for "Amp It Up," a competition between the two traveling science show educators of who could make the loudest bang, and the most uncomfortable inappropriate jokes.
In their defense, they usually put on these chemical shows for children – their anatomy jokes were a bit rusty. But the duo made amends with the audience through their explosions. Yelps of excitement and surprise escaped from the crowd as liquid nitrogen popped a balloon, iron oxide and aluminum ignited a few sparks and two tesla coils ignited to play a tune.
"I love getting out there with the crowd trying to build up a really good energy," Rowley said. "Tonight we really succeeded in that. We make a lot of noise and get the crowd making a lot of noise back. We're here to get everybody excited about science."
And the excitement didn't stop there. I programmed a robot to dance and held severed pieces of brains in my hands.
"I feel like a kid on a field trip, and I haven't felt that way in a very long time," Grace Farber, University of the Sciences professor and attendee said. "It's being able to talk to people that have such a deep knowledge of what they're talking about that has made this event enjoyable. I have learned a lot about a field I have spent my life researching, and I am enjoying myself thoroughly."
Though obtaining cadaver parts for examination isn't a household experiment, the event offered plenty of ideas to try at home. Volunteers from Temple with TUteach were in attendance, using tape, a bobby pin and the lens of a laser pointer to turn an iPhone into a microscope.
And as a nice party trick, two scientists from University of the Sciences were making DNAquiries. The DNA from strawberries is easily extracted with the enzymes in pineapple juice. When the mixture is added, the DNA separates from the rest of the solution and can easily be seen resting at the top. Then add Baccardi 151 and ice, and you have yourself a strawberry daiquiri.
"It was informative and delicious," taste-tester Steve Goldberg said.
It was unclear whether the creativity of the experiment or the ability to taste test it afterward was why the vendor was the most popular of the event.
Don't worry, you didn't miss your chance to get your nerd on. The Science Festival has a hefty list of events planned between the adult-only party on April 25 to the all-ages Science Carnival on Saturday. The free event on the Benjamin Franklin Parkway will run from 10 a.m. to 2 p.m., and will host more than 175 vendors.
"The Philadelphia Science Festival is an amazing opportunity for organizations across the city," Founding Festival Director Gerri Trooskin said. "Scientists, engineers and educators get to come together to say that science is fun. It's engaging, it's interactive and it's important. This is an opportunity to celebrate all of the science that makes this region really fantastic."
It's all about experiencing the magic of everyday life. That concept is something that is lost to some in the classroom, surrounded by a strict structure and seemingly impossible core of memorization. But, no matter how hard you try, there's no escaping science. It's in the way you breathe, even the way your brain registers the words you are reading at this very moment. In its fourth year, the Philadelphia Science Festival aims to ignite the excitement for STEM that a hands-on learning experience can create.
"Having that hands-on experience is something you miss sometimes," Farber said. "Having that instruction at your intellectual level helps to make the science of everyday life accessible, and incites a childlike wonder in us all."
Brianna Spause can be reached at brianna.spause@temple.edu.