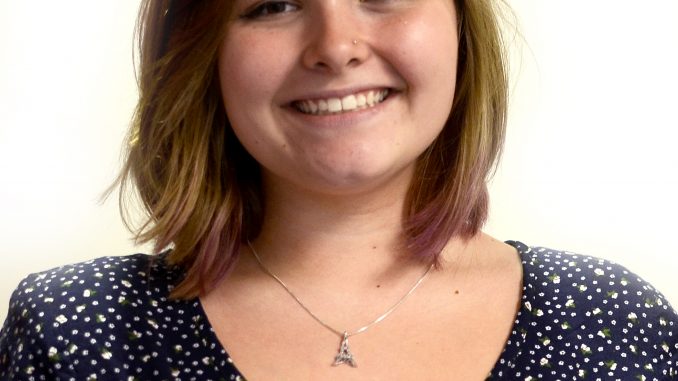 Did you know they give out free cups of water at World Café Live? I thought it must have been some sort of April Fools' Day ruse, but sure enough – free hydration for everyone.
The house slowly began to fill with indie rock music fans as I cherished my unheard-of free water while a surprising number of youngsters came out for a Tuesday night, dragging their moms along with them.
But hey, music is an ageless medium, and I've always subscribed to the idea that the less personal space, the better.
The energy of the packed venue set the bar pretty high, which was sadly just out of reach for the show's opener, Holychild, a four-piece brat-pop ensemble from Los Angeles that made its first appearance in Philadelphia to kick off the band's first national tour.
It was a night of firsts all around, as I have certainly never seen dance moves — or flailing, or whatever you want to call it — like lead singer Liz Nistico's before. Perhaps it just wasn't my cup of tea.
Feeling it, maybe not. But I can certainly respect the courage it takes to climb up on stage and sing your heart out.
"Thanks for having us Philly, it was an amazing experience," Nistico said. "Give it up for Jukebox the Ghost."
The crowd sure did. A roar erupted as the headliners swooped in to save the show. The trio strutted out on stage for the first stop on its April Fools' mini-tour, causing a crowd-wide swoon.
Once the music started, it was impossible to stand still. The band's blend of funk and piano rock crawls down any listener's spine, inciting an unconscious head-bob at the bare minimum.
Even pianist and vocalist Ben Thornewill couldn't resist the movement.
"I've never seen anyone dance, and play the piano and sing all at once like that," freshman speech, language and hearing science major Jen Brandley said.
Adding amusing facial expressions to the list of multitasking make for a characteristic Jukebox performance. The band played it safe through the first set with crowd pleasers like "Somebody," "Schizophrenia" and "Static," but had some tricks up its sleeves.
Flashback to the preshow interview where they gave me the lowdown.
The door of the backstage green room swung open to unveil an organized disaster. A mountain of clothing engulfed what appeared to have been a couch at one point in time.
"Oops, let me clear that off for you," guitarist and vocalist Tommy Siegal murmured as he relocated the mess. "Take a seat, we don't bite."
"But we can lie to you, because it's April Fools' Day," drummer Jesse Kristin said.
Determined to pull the cat from the bag, I asked, "So what's the deal? You're touring for April Fools', you guys must have something planned."
"Well, besides the animal sacrifices, we're doing a set of real songs and a set of covers – and some weird ones," Thornewill joked.
The band did host a disappearing act as well. It appeared as though a wardrobe change had been in order – clad in a traditional wedding band getup – suspenders and all – the band was back to play a slew of universal favorites.
"Don't Stop Believing" by Journey, the "Ghostbusters" theme song and Shania Twain's "Man! I Feel Like a Woman," elicited the largest crowd echo of those on the bill. A 360-degree spin revealed a sea of synchronized voices crying out the well-rehearsed favorites, from the moms especially.
"We've been a band for 10 years and every tour we've had to learn a sort of Hail Mary pass – a sort of joke cover to end with – and it has become a staple of our live show," Siegal said. "Over the years, we've just accumulated a stupid amount of covers."
The years of covers came in handy when the trio played their good friend's wedding a few months back. After adding a plethora of classics to its archive, the band knew it was time to bring the experience to Jukebox fans. And it was a must to dress the part.
"We had to do something, we couldn't just forget all of those songs," Kristin said.
"'Highway to Hell' is my favorite cover," Siegal added with a grin. "What's great about it is that we force [Thornwell] to not play piano on the song, so he's singing karaoke. Other than this song, I've never seen him stand up with a mic and get into it."
There's no heavy rock to be found on any of Jukebox the Ghost's three albums, but the crowd ate it up regardless. The variation of musical stylings that night displayed the incredible talent of the three seasoned musicians — a taste fans wouldn't get anywhere else. The genre-based irony wasn't an April Fools' prank, but rather a pleasure.
"I live for covers," Cherry Hill, N.J. native Zack Schwartz said. "I feel like it's mean to call that an April Fools' joke. That was an April Fools gift."
Brianna Spause can be reached at brianna.spause@temple.edu