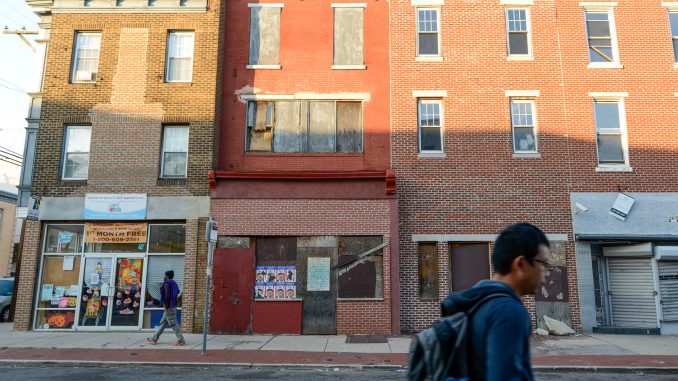 Businesses near Main Campus were initially part of a citywide program to improve business storefronts. Renovations and improvements for the 1400-1900 blocks of Cecil B. Moore Avenue have been curbed following discussions between business owners in the area.
The blocks were eligible for the Storefront Improvement Program, an initiative of the Philadelphia Department of Commerce that helps restore business storefronts throughout the city.
According to the Department of Commerce SIP Guidelines, "the purpose of the Storefront Improvement Program is to encourage businesses and property owners … to improve their storefronts, making these areas more attractive to shoppers and growing their vitality and economic performance."
Improvements to the storefronts are required to be visible to the public, which includes masonry and brick pointing, moldings, exterior painting, windows, glazing, exterior doors, signage, awnings, exterior façade lighting and see-through security grills.
The guidelines also detailed a 50 percent reimbursement for costs up to $10,000 for individual properties and $15,000 for group addresses. Business owners were asked to work with a "relationship manager" to figure out what improvements were needed and permitted.
Beech Companies, located at 1510 Cecil B. Moore Ave., is an organization that provides commercial and economic development, neighborhood revitalization and program and project support services. Beech Companies would act as the relationship manager for the businesses near Temple in the case of the implementation. Beech's website also said the company organizes development on Cecil B. Moore Avenue. The company could not be reached for comment.
Talib Abdul Mujib, owner of 1617 Barber Shop and Beauty Salon on 1617 Cecil B. Moore Ave. said there was a meeting held by Beech Companies to discuss an "incentive to redo storefronts."
Mujib said at the meeting, business owners were told they would be reimbursed for half of their expenses, but they had to pay for everything before receiving the money.
"It wasn't much of an incentive," Mujib said, adding being on a "shoestring budget" made it difficult to do a big change all at once. "I do all my improvements on my own, a little at a time."
Mujib said he would like to see more lights on the block, pointing to a streetlight that had "always been out."
"If you had a brighter street, people would feel more comfortable," he said.
Mujib's list of improvements included installing trash cans to help with the "serious trash problems," developing the empty lot across the street and building a ramp to make his business more accessible.
"It would be great to see a beautiful street, but who's it for? Not the residents," said Négüs Frost, who is in charge of outreach at the Universal Negro Improvement Association and African Communities League Division 121 on 1609 Cecil B. Moore Ave.
According to its website, UNIA-ACL is a "governing ruling body … to work for the general uplift of the Negro peoples of the world" that conducts work through social, humanitarian, charitable and educational programs.
"It's about marketing to students and faculty," Frost said. "This is being done for them, not for my kids, who are eventually going to be priced out because property taxes are going up."
Frost added people living permanently in the area are more focused on surviving than on beautifying the neighborhood, and added the SIP was a form of "serious gentrification."
"Temple is trying to bring University City to North Philadelphia," he said. "It's harming us, because they don't have concern for the people living here, but for the ones coming here for four to eight years."
Both Frost and Mujib said communication between Beech Companies and local businesses was poor.
"They put things up in obscure places," said Ramisous Maat-Ra, a member of UNIA-ACL.
Mujib said a memo was passed out, but "no one came to [him] and asked [him] about it."
Mujib and Maat-Ra also said if Beech offered direct grants to business owners, the incentive for participating would have been stronger.
"If I could, I would change everything," Mujib said.
Julie Christie can be reached at julie.christie@temple.edu or on Twitter @ChristieJules.