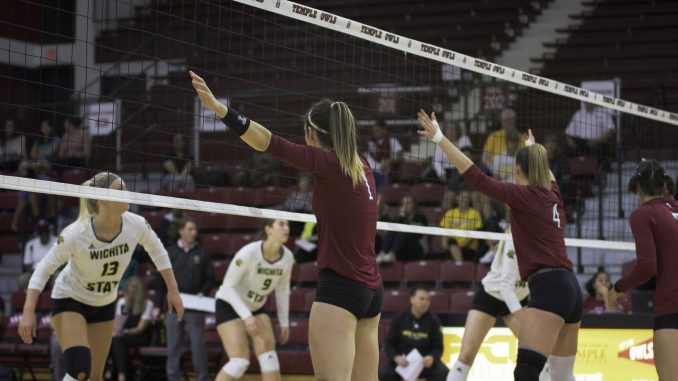 Temple held a one-point lead against Tulsa in the third set on Friday night. The match was tied at one set each, and the Owls had played a sloppy game up to that point.
An attack attempt from senior outside hitter Izzy Rapacz sailed out of bounds to increase the Owls' error total to 15 and tie the set.
Coach Bakeer Ganesharatnam had seen enough. He motioned to the sideline and sent junior middle blocker Iva Deak onto the court for the first time Friday.
Deak was subbed in to take pressure off of Temple's pin hitters. For the rest of the match, the Owls only committed one attack error in the Owls' 3-1 win at McGonigle Hall.
Temple (11-6, 7-2 American Athletic Conference) won three consecutive sets after losing the first. Ganesharatnam said "'sloppy' is probably a good description" of Temple's early performance against the Golden Hurricane.
The Owls had nine attack errors by the end of the opening set and struggled finding holes in Tulsa's defense. Temple still had four attack errors in the second set despite winning that set 25-14.
When Deak entered the lineup late in the third set, Temple's offense executed more efficiently with a more spaced out floor. Deak finished the match with six kills and hit 75 percent in two sets.
"Iva came in and gave us a lot of momentum," Ganesharatnam said. "We were a little trapped with the pins. The pins got a lot of double blocks [on them]. With Iva coming in, we were able to open that up a little bit and spread it out. It really made the life of our pins a little easier because they got more one-on-ones."
Temple ended the match with six service aces and 95 digs, the team's highest total since its 3-2 win against Southern Methodist on Nov. 22, 2015. In the five-set match against the Mustangs, Temple recorded 106 digs.
"I think we served pretty aggressively and did a great job with serving," Deak said. "Also our serve receive was great. At the beginning, it was a little shaky. But as the game went on, our serve receive improved. It made [senior setter Kyra Coundourides]'s job easier, which of course made the hitters' job much easier."
Coundourides earned a double-double against Tulsa with 46 assists and 19 digs. Coundourides also added seven kills. Freshman outside hitter Katerina Papazoglou also had a double-double with 13 kills and 13 digs.
Rapacz had a team-high 18 kills and hit 32.5 percent. Rapacz also recorded 16 digs to finish with a double-double.
"Izzy is stepping up big time," Ganesharatnam said. "I'm very happy for her performance because it helps us to get more wins. She's a great contributor for us on offense and on serve receive and defense, too. A lot of people don't necessarily acknowledge that she does a good job for us playing all the way around."
Temple will face conference rival Southern Methodist on Sunday at noon at McGonigle Hall. The Mustangs have been the top team in The American for the past two seasons. The Owls finished second in 2015 and third in 2016. This year, the Mustangs are second in The American behind Wichita State, and the Owls are tied for third with East Carolina.