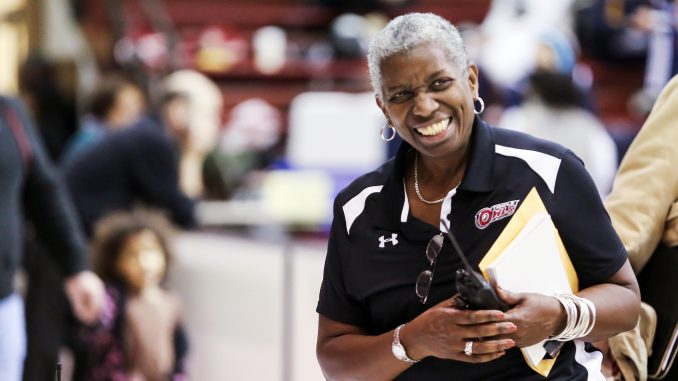 Alexandra Keft was getting her ankle taped up as one of the biggest moments in Temple's fencing history hung in the balance.
"I just rolled my ankle," the senior epee squad captain said. "This is actually the second time I rolled it in the same way, and you just gotta keep pushing and finish the bout."
Temple, ranked No. 7 in the CollegeFencing360.com Women's Coaches Poll, started Sunday's Temple Invitational with a bout against No. 1 Princeton University. Keft came out of the injury timeout to win the 14th point and hand the Tigers a 14-13 loss, the Tigers' first of the season.
"I think Alex will remember that for a long time," coach Nikki Franke said. "She's had a great career and there's nothing more I could ask from her."
"I definitely want to see our rankings go up," Franke added.
The win against Princeton set the tone for the day. Temple's fencers kept their energy up all day, with some of the Owls dancing during the 30-minute lunch break while other teams practiced. The team finished 4-1, outscoring opponents 85-30. The Owls (34-9) went 2-1 against top five opponents, beating the University of Pennsylvania and losing to Penn State.
"Energy is something that we've been making a part of our culture as far as I've been here," Keft said. "There are times when our energy has dipped, and it's affected our play. So we make sure to dance with each other, yell, whatever we have to do to keep it up."
Following the lunch-break dance off, Temple took on No. 4 Penn (19-4).  The Owls picked up a 15-12 win against the Quakers.
No. 5 Penn State (23-6) was the only team match the Owls' energy during the event. Temple had a 10-2 lead but the long day, which started at 7 a.m. and ended at 5 p.m., seemed to catch up with the team. Penn State rallied back with 10 straight points and eventually won 15-12.
"The energy definitely went down a little bit," Franke said. "But some of the girls were just tired. They were working hard."
The Owls bounced back to beat St. John's University 15-12 and end the day at 4-1. Penn State went 4-1 as well, suffering its only loss to Princeton, 17-10. Princeton lost 14-13 to Penn to finish the day with a 3-2 record.
The Owls honored Keft, senior sabre Victoria Suber and senior foil Kristen Kemnitzer before their final home meet. Temple's next competition is the National Intercollegiate Women's Fencing Association Championship on Saturday in West Point, New York. It is the team's final competition before the NCAA regional meet on March 11 in Easton, Pennsylvania.
"It's been a great run and that's a great way to end my last senior meet," Keft said.
Demetrius Mason can be reached at d.mason@temple.edu. Follow The Temple News on Twitter @TheTempleNews and @TTN_Sports.