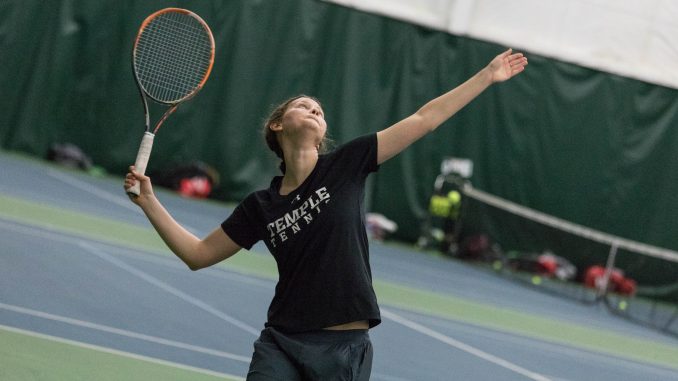 Temple shut out La Salle for the second time this season when it beat the Explorers, 7-0, on Friday at Legacy Tennis Center in East Falls. Temple didn't lose any sets in its matches.
The Owls' (7-7, 2-1 American Athletic Conference) first win against La Salle (3-11, 1-2 Atlantic 10 Conference) came on March 8 at Legacy Tennis Center. Senior Alina Abdurakhimova didn't play in the first match against La Salle.
On Friday, she earned victories in the top singles and doubles flights. She and senior Monet Stuckey-Willis beat Explorers sophomores Tiffany Theophil and Ali Snyder, 6-3, in the No. 1 doubles spot. Abdurakhimova beat Theophil, 6-4, 6-2, in the top singles spot.
Stuckey-Willis beat Snyder, 6-1, 6-0, in the No. 2 singles position. Senior Rimpledeep Kaur and junior Alice Patch won their singles matches by identical scores in the third and fifth singles flights. Kaur and Patch won their doubles match, 6-0, against junior Brittany Poje and senior Jade Smith in the second doubles flight to clinch the point for Temple.
Senior Yana Khon won her fifth straight singles match. Sophomore Cecilia Castelli won her match, 8-1, against La Salle freshman Hana Granillo in the final singles flight. Since losing her first three decisions of the spring season, Castelli has a 5-2 record.
Coach Steve Mauro's team will play its final road match of the season on Sunday against Villanova (8-7, 1-1 Big East Conference) before it closes the season with three consecutive home matches.