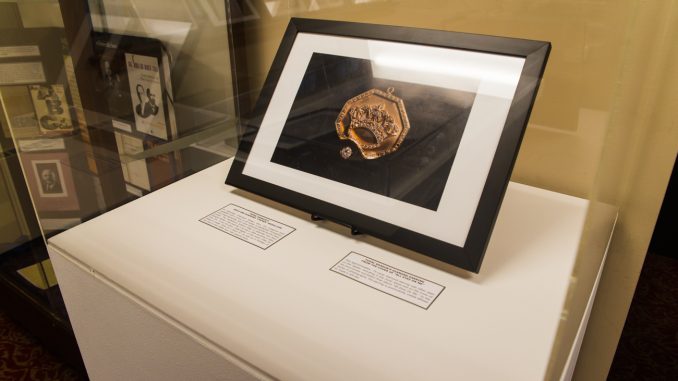 Diane Turner wanted to see more hip-hop artifacts in the Blockson Collection, so the donation of items formerly belonging to Tupac Shakur came at the perfect time.
New Jersey-based company Goldin Auctions donated several of the late rapper's possessions to Temple University's Charles L. Blockson Afro-American Collection, which Turner curates. The items were unveiled to the public on Thursday on the first floor of Sullivan Hall, which houses the collection of more than 500,000 pieces of African-American literature and artifacts.
The donation includes the diamond earring Shakur wore on the cover of his popular 1996 album "All Eyez On Me," a diamond and gold medallion with a bullet dent in it from a 1994 shooting and handwritten lyrics for several of his songs, like "I Ain't Mad at Cha" and "Only Fear of Death."
"Philadelphia is a music town," said Turner, who curates the collection and is a 1994 doctorate of history alumna. "I'm overjoyed not only for the Blockson Collection but for the students because I know the students are really interested in Tupac and hip-hop."
Tupac was known for his influence on 1990s hip-hop culture and acted in movies like "Juice" and "Gang-Related." He was also a social activist fighting African-American oppression by addressing racism in his songs.
Shakur is widely known for his fourth studio album, "All Eyez on Me," which was released in 1996 and featured five hit singles. The same year, Shakur was killed in a drive-by shooting.
The Blockson Collection is one of the largest collections of African-American artifacts in the country. Charles Blockson, an author and collector of African-American literature, originally donated his collection to Temple in 1984.
It includes original works by poet Phillis Wheatley and sheet music by singer Paul Robeson. Some artifacts date back to 1581.
Ken Goldin, the founder and CEO of Goldin Auctions and a Philadelphia native, said his company has previously handled several items from Shakur's estate. He decided to donate to the Blockson Collection because of its prestige and proximity, he said.
"Here's an opportunity to give back to the community and allow something to be shown to the public display that ordinarily would not be," Goldin added.
Goldin also chose to donate Shakur's items to the university because of the course Tupac Shakur and the Hip-Hop Revolution, a three-credit class taught by Aaron X. Smith, an Africology and African American Studies professor.
The College of Liberal Arts offers the course every spring through the Department of Africology and African American Studies. Students enrolled in the class examine historical elements like lynchings, slavery, forced sterilization of African-Americans, the Black Panther movement and influential rappers.
Smith, a self-proclaimed "hip-hop head" who is often called "The Rapping Professor" by members of his department, said he was excited about the donation. He added the gift is important because it helps legitimize hip-hop culture in academia and society.
"This is a day that we didn't think would come, at least this soon, because just 40 years ago they were still calling [hip-hop music] a passing fad," Smith said. "Just 20 years ago, they were saying it was a pariah in society, and here we have the legitimization from the academic community on the highest level."
"The Blockson Collection saying that this is worthy of academic study has contributed significantly to not only the history of African-Americans but the history of America," Smith added.
Goldin Auctions mainly works with sports memorabilia, so when it acquires items that are entertainment related, Goldin said it's exciting for the company.
For Turner, the donated items illustrate the resiliency of the historical figures preserved in the Blockson Collection.
"When we look at this history and we can find models that we can use today and see the things, struggles that people go through, there is still hope," Turner said. "No matter how bad things seem, you can overcome them."