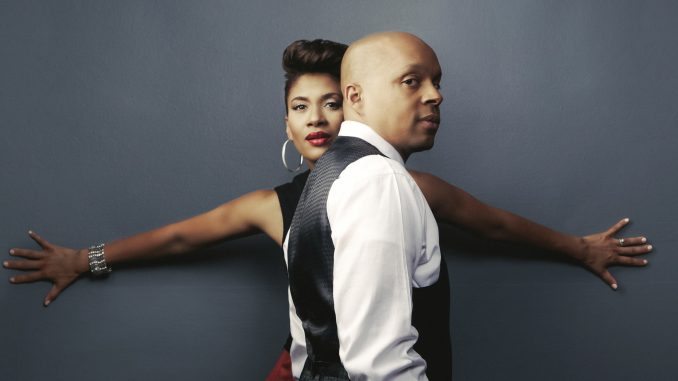 Jean Baylor graduated from Temple in 1993 after studying jazz as a vocal performance major. But her fame initially came from R&B.
While at Temple, Baylor met Renee Neufville, and the pair formed the duo Zhané. Their single "Hey, Mr. DJ" peaked at No. 6 on the Billboard Hot 100 and earned the duo a contract with Motown Records in 1994. Their debut album produced two Top 40 hits. Zhané released a second album in 1997 before splitting in 1999.
Baylor played jazz shows throughout her career, including gigs in Philadelphia while at Temple. She released her first jazz recording, "The Journey," with her husband Marcus on Feb. 10.
It debuted at No. 8 on the Billboard Jazz Chart and reached No. 1 on the iTunes Jazz Chart. Jean said it was cool seeing her album next to Tony Bennett and Lady Gaga's.
"Other genres, pop, R&B, rock, they're usually tied to the hook and tied to the catchiness of the music that someone is going to repeat over and over again, where jazz isn't that type of situation," Jean said. "For me, it was coming full circle back into jazz music, but as we got further into the project, we realized that we just kind of wanted to tell our story as individuals and as a unit."
Jean and Marcus debuted as The Baylor Project in 2013. Like many of his ideas, Marcus thought of it after a long shower.
"That's the dumbest idea ever," Jean would often say when he told her one of his revelations.
But this one was different. Marcus' friend who worked at a music publishing company actually suggested the concept of having a duo where Jean would sing and he would drum to Marcus about 10 or 12 years ago, he said. It finally came to fruition.
They had a residency twice a month at Smoke Jazz & Supper Club in Manhattan's Upper West Side. When their shows started selling out, they decided to start recording.
"Once we got to the studio, it was just turn-key," Marcus said. "It was literally just us just having a good time and just playing the songs. … We knew that we had something special."
"Exercising your craft and playing and singing and doing what you love to do kind of forces you to get better because the more you play, the more you learn your instrument and the more you understand who you are on your instrument," Jean said. "I think that each musician, singer, whatever it is you do, should have their own voice."
The last track on The Journey is only vocals and drums. It sprinkles in snippets of Jean and Marcus' parents talking about what they were like as children. Both of their fathers were pastors, and they each got their start in music by performing in church. Marcus started drumming as a child and went on to drum for the Yellowjackets, a two-time Grammy-winning quartet, from 2000-10.
He studied jazz at The New School in New York City. Jean needed a drummer for a show in New York around 2000 and got connected with Marcus through a mutual friend.
The two celebrated their 15th wedding anniversary on Thursday with some takeout pizza from a parlor near their South Jersey home.
In late March, Jean was walking through Philadelphia International Airport after returning home from a trip. She saw a group of women wearing Temple apparel. When she looked closer, she noticed it was the lacrosse team. Jean played for Temple in the early '90s.
She stopped the team in the airport to take a picture and exchanged contact information with coach Bonnie Rosen. About a week later, Rosen invited her to speak to the team at a practice.
"It's so exciting to me to have someone who is involved in the music industry and is just such a talent for our players to see all the different ways you can live your life afterwards, career path-wise, was really cool," Rosen said.
The Baylors, who work through their own music label, will perform two shows in Alpharetta, Georgia on April 28 before playing in Durham, North Carolina and Delray Beach, Florida to close out the month. They're working on a West Coast tour for later in the year and already have ideas for their next project.
Jean said she hopes to continue to grow as a musician and mentor younger artists in the years to come.
"This is who we are," Marcus said. "This is what we were born to do."
Evan Easterling can be reached at evan.easterling@temple.edu or on Twitter @Evan_Easterling.