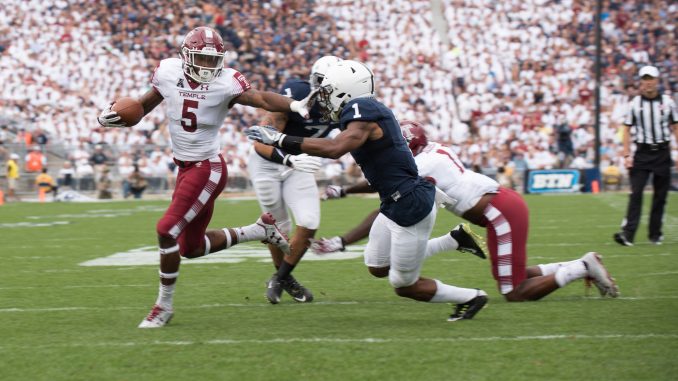 Editor's Note: This post was last updated at 9:06 p.m. on April 29, 2017. Check back for more updates as players continue to sign contracts.
Shortly after the conclusion of the final round of the NFL Draft on Saturday, several former Owls took to Twitter to announce they had signed with NFL teams as undrafted free agents.
Former running back Jahad Thomas will join the Dallas Cowboys. Thomas earned second-team American Athletic Conference honors in 2016 after earning first-team distinction in 2015. He had 30 career rushing touchdowns and eight career receiving touchdowns for Temple.
Linebacker Avery Williams is also heading to Texas. He signed with the Houston Texans, who allowed 301.3 yards per game in 2016, a league best. Williams led Temple in tackles in three different games in 2016 and earned second-team honors in The American.
Defensive lineman Praise Martin-Oguike signed with the Miami Dolphins. He had 29 tackles for loss, blocked six kicks and had 19 sacks from 2014-16.
Tight end Colin Thompson signed with the New York Giants. Thompson, more of a blocking tight end, caught three passes for 43 yards and a touchdown in 2016. He had a 32-yard reception in the Owls' season-opening loss against Army West Point in September. Thompson, an Archbishop Wood product who transferred to Temple from the University of Florida, caught 19 passes for 208 yards from 2014-16.
Romond Deloatch also signed with the Giants. Deloatch, a 6-foot-4-inch tight end, wide receiver and defensive end, was a frequent target on goal-line fades in the red zone during his Temple career. He caught 18 passes, including a season-long 67-yard gain against Penn State, for 242 yards and a touchdown last season. Deloatch averaged 10.9 yards per reception in five seasons.
Last season, former coach Matt Rhule used Deloatch at defensive end. He had seven tackles for loss, four sacks and forced two fumbles last season. Deloatch recovered a fumble for a touchdown against Southern Methodist in October.
For the second year in a row, Temple had three players selected in the NFL Draft.
The Arizona Cardinals selected former walk-on linebacker Haason Reddick 13th overall on Thursday in front of the Philadelphia Museum of Art. The next day, the Buffalo Bills traded up in the second round to select Dion Dawkins, a three-year starter at left tackle for the Owls from 2014-16. The Indianapolis Colts selected Nate Hairston, a wide receiver turned cornerback, in the fifth round on Saturday.
Former quarterback Phillip Walker is also headed to Indianapolis after signing as an undrafted free agent. Walker took over as the Owls' starter during the 2013 season as a true freshman. He graduates as Temple's all-time leader in completions, passing yards, touchdown passes and total offense and is the first Temple quarterback to lead the school to multiple bowl games.
In 2016, he threw 22 touchdowns, including two in the Owls' American Athletic Conference title game win against Navy. Walker earned the game's Most Outstanding Player Award.
Last year, several former Owls signed as undrafted free agents, including wide receivers Robby Anderson and Brandon Shippen and center Kyle Friend. Anderson made the New York Jets' roster out of training camp and played in every game, starting half of them. He caught 42 passes for 587 yards and two touchdowns last year for New York.
Evan Easterling can be reached at evan.easterling@temple.edu or on Twitter @Evan_Easterling. Follow The Temple News @TheTempleNews and @TTN_Sports.