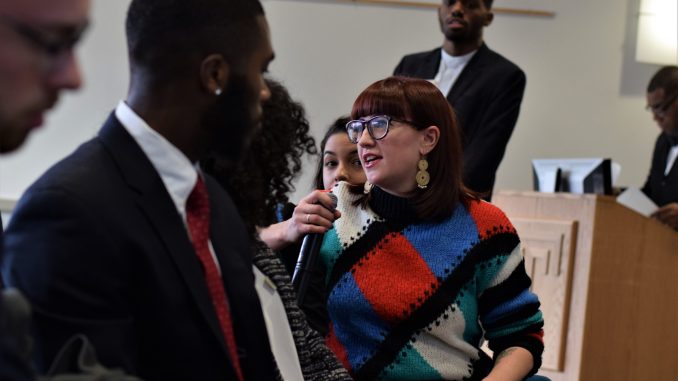 On Mar. 6, Temple Student Government held an open forum for students to discuss President Donald Trump's several actions toward immigration since he took office.
Taylor Benjamin-Britton, an adjunct instructor of International Relations in the College of Liberal Arts. started the forum by explaining the ban.
The original executive order enacted on Jan. 27 barred entry for 90 days to citizens from seven Muslim-majority nations — Iraq, Iran, Sudan, Syria, Somalia, Lybia and Yemen — even if they had a pre-approved visa. A federal judge from Washington struck down the ban.
Hours before the forum, the Trump administration released a new ban that barred six of the seven original countries, excluding Iraq.
"This was cited because Iraqis had been engaging cooperatively in terms of providing information about their citizens that the administration wanted to receive," Benjamin-Britton said. "For good behavior, in short, Iraq was removed from the list."
Two additional immigration orders were instated on Jan. 25, two days before the original immigration ban. Benjamin-Britton said the orders included a wall along the U.S.-Mexico border, an additional 5,000 border patrol agents and 10,000 customs enforcement officers. She said those officers were trained in arresting and detaining undocumented immigrants.
Students said they were concerned about Trump's plan to defund sanctuary cities like Philadelphia and what would happen to Temple if the university named itself a sanctuary campus.
"To my knowledge, there is no sanctuary status with the university, specifically," Benjamin-Britton said. "The city can protect people but the university made a statement during the ban and there's really not much else the university can offer. The best hope is to turn to local government."
"What they're trying to do is make the cities nervous and push them to comply with what the federal government wants to see, which is basically people telling on other citizens that there are undocumented persons in their city. And I don't see that happening in the City of Brotherly Love."
Joan McGinley, the associate director of International Student Services, spoke later in the forum. She said that her office was unprepared to deal with the revised bill, which was released just hours before TSG's forum.
"The ban, for me, aside from the obvious problems, also takes away what was a convenient thing for people when they applied for visas," McGinley said. "If they met a certain criteria, they did not have to have a visa interview and that has been stopped."
Now, everyone from every country is required to undergo an interview for a visa, she said, adding that it was inconvenient for students planning to arrive for residencies and Fall 2017.
"If everyone has to go to the embassy for an interview, it's going to cause a lot of backups," she said. "That's a big obvious problem that's just come into being this morning."
"The first thing I thought was 'I hope it's overturned quicker than the last one,"' she added.
Juan Daniel Hurtado Salazar, an undeclared sophomore at the Tyler School of Art, said the bills were intended to cause fear.
"Basically the laws themselves don't do anything except shine a bad light on immigrants," he said.
Benjamin-Britton urged students to take action and call their state and local representatives along with their Senators and Representatives in Congress.
"The reason why all of this is being allowed to happen is through permissive conditions," she said. "If we allow these things to happen and don't resist, the administration will think it can get away with more of the same."
Student Body President Aron Cowen said he has not come to terms with the executive order and its meaning.
"The whole point is that you're not supposed to normalize these things. If something's not fine, it's not fine," he said. "I channel the way I feel about it into action. Whether that's making statements, working with administration to make sure we have services for students, donating to the ACLU, leverage your feelings and make them help."