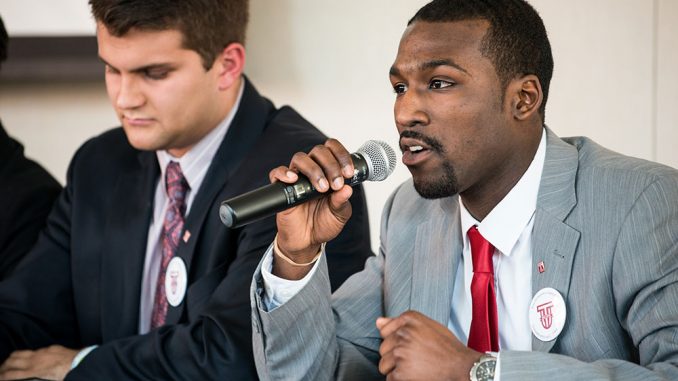 Temple Student Government held its first debate between the candidates running for the leadership of the student body during its General Assembly meeting on March 31. 
The competing tickets, TU Believe and Renew TU, laid out their platforms and addressed questions from students at the TSG meeting.
In an opening statement, Ifeoma Ezeugwu, presidential candidate for Renew TU, promised to make sure students were recognized for their accomplishments with a monthly video series covering student achievements in the arts, sciences and other less publicized fields of study.
TU Believe's presidential candidate Ray Smeriglio highlighted how his administration, if elected, would work with Temple to improve dining and safety services and expand LGBTQ safe-zone training programs.
Students asked how the candidates planned to make Main Campus and the surrounding area safer, in the wake of recent attacks on Temple students last month. Rachel Applewhite of Renew TU said they plan to expand transportation options like the Owl Loop shuttle and TUr Door.
"To make sure students aren't standing outside in a vulnerable environment, we need to increase where [shuttles] can travel to," Applewhite said.
Smeriglio said his ticket would focus on security inside campus buildings, ensuring Owl Cards are needed to access all facilities. Current student body president Darin Bartholomew and his administration have already worked with Campus Safety Services this semester to discuss heightened building security after a professor was attacked and robbed in Anderson Hall last fall.
Speaking about plans to make academics as much a priority as athletics, Ezeugwu said Renew TU would introduce cross-school advising for students studying multiple majors across different schools.
"By enhancing advisers, we can create a better network for students," Ezeugwu said. "They'll be well-informed so when students need to go to them, they know" the requirements from each school students have majors or minors in.
The teams debated ideas to get students more involved and aware of TSG. Julia Crusor of TU Believe said her team plans to restructure the TSG General Assembly meetings to incorporate student voices more in decision-making.
"It will be a biweekly group setting with smaller committee meetings, students will be allowed to attend," Crusor said.
Renew TU had their own plans to increase student involvement called "opening Temple's eyes," which includes "getting students to read more emails, letting faculty know about opportunities and getting students' attention when walking through campus," Applewhite said.
On the topic of diversity, Renew TU favored creating a Diversity Week to celebrate the multitude of student backgrounds in the Temple community. TU Believe argued it was more important to educate students on the diversity already present at Temple, without creating new programs.
TSG election commissioner Dylan Morpurgo said both teams were told the topics of the questions – excluding ones delivered by students – prior to the debate, allowing them time to prepare their answers beforehand.
Elections will be held Tuesday, April 8 and Wednesday, April 9 online via Owl Connect.
Joe Gilbride can be reached at joseph.gilbride@temple.edu.