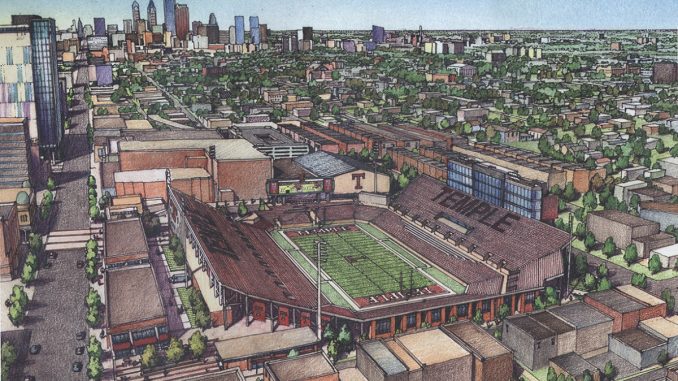 Temple Student Government developed a survey to collect student opinions about Temple's proposed on-campus stadium.
TSG worked with the university's Office of Institutional Research and Assessment — which collects data that is used for assessment, planning, policy formulation and mandated reporting — and the Provost's Office for the survey.
This will be the first time students are surveyed on a large scale about the proposed on-campus stadium.
In Spring 2015, a survey by three advertising students asked students if they would be more likely to attend football games at an on-campus stadium. It received 397 student responses, which was not a large enough sample size for the study to be reliable. There are more than 41,700 students on domestic and international campuses.
The survey was created by Student Body President Tyrell Mann-Barnes and will be sent out on April 9 via email to all undergraduate and graduate students. It can be filled out through April 13.
The survey will include open-ended questions, scaled-answer questions from "strongly agree to strongly disagree" and a section for comments.
"We're definitely doing everything we can to get the full range of student perspectives on the stadium," Mann-Barnes said.
Temple has been seriously considering an on-campus facility to host home football games since 2015, but the project has been largely criticized by North Philadelphia residents, faculty and some students. In March, President Richard Englert hosted his first stadium town hall for the public, but it ended early due to disruption from anti-stadium protesters.
The data collected from TSG's survey will be controlled by Institutional Research and Assessment, but Mann-Barnes said TSG and the university's administration will have access to it.
Mann-Barnes said the survey responses will not affect TSG's stance on the stadium. Current TSG leaders have consistently said they "oppose a stadium that negatively affects the North Philadelphia community."
Both of the remaining campaigns — IgniteTU and VoiceTU — oppose Temple's on-campus stadium project.
Mann-Barnes said students will be given the option to be contacted for a focus group after taking the survey.
"It's so we can expand the conversation," he added. "Students' voices are crucial to any practice that will impact the community."
Mann-Barnes said the team elected to lead TSG for the 2018-19 academic year on Friday will be included in finalizing survey questions before the survey is sent out to students.
"We want to keep the incoming administration in the loop," Mann-Barnes said. "We want to make sure everybody's on the same page so we can best represent the student body."
Mann-Barnes emphasized the importance of student participation after the 2015 study's results could not be used because of a lack of participation.
"[Participation] is the only way we'll be able to quantify how students feel," he said.
Alex Smith, a junior finance major, said he will take the survey when it is sent out.
"I'm pro-stadium," he said. "The liability will go down from renting Lincoln Financial Field every year, and the stadium can be used for other things, not just [Temple] football."
Melissa Resurreccion, a freshman communication studies major, said she is against an on-campus stadium because of its impact on community residents.
"There's more to North Philly than our bubble that is Temple, and we have to make sure we're all coexisting peacefully," she said.
Resurreccion added that student opinions are necessary.
"In the end, they're making this stadium for us," she said. "If we show there's enough opposition, there's a possibility we don't even need it."