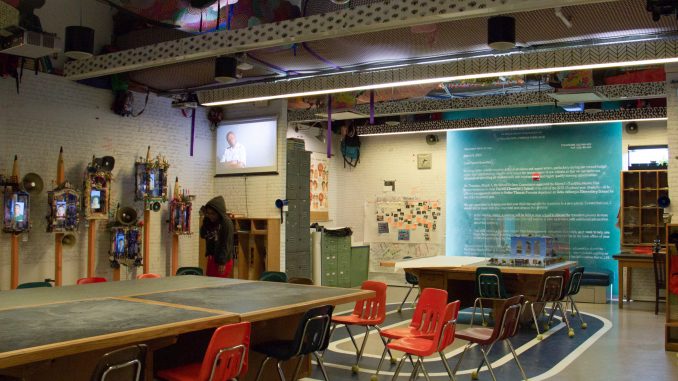 Joaquin Noguera believes that making education into a "social justice issue" is something that affects everyone.
"In the United States, education is the main factor in both social mobility and the reproduction of status from generation to generation," said Noguera, a social activist. "The long history of separate and unequal education for poor children and people of color in this country persists today."
Temple Contemporary invited Noguera and his father, Pedro, a professor of education at the University of California, Los Angeles.
The speakers will touch on the national crises regarding the discrepancies in funding for public school systems, especially in communities of color.
Robert Blackson, director of exhibitions for Temple Contemporary, reached out to Noguera and his father to share their expertise on education reform.
"They'll share strategies for schools and communities to increase agency and close the opportunity gap for historically oppressed groups," Blackson said.
"Robert Blackson got in touch with me and explained their interest in organizing a public 'father-son' conversation about current trends in education," Noguera said. "I appreciated their creative approach to contributing to a narrative about education in Philadelphia."
The speech aims to shed light on the nation's education system, which in recent years has become especially relevant to Philadelphians—24 public schools were shuttered in Philadelphia in 2013 alone.
Last summer, Temple Contemporary commissioned the "reForm" exhibit, created by Tyler School of Art professor Pepón Osorio. The exhibit is located in the basement of Tyler and showcases objects donated from Fairhill Elementary School, which closed in 2013.
"While working at Fairhill, I saw the direct effects of the school funding crisis on the students, on local community," said Tim Gibbon, a 2015 Temple master's in education alumnus in community arts practices and the project manager for the "reForm" exhibit. "Resources, such as arts and athletics programming, the school library and critical support staff, such as counselors, nurses, [the] assistant principal and security were cut year after year until the school was eventually closed in 2013."
Gibbon added that the incident at Fairhill was not "an isolated incident." Rather, it was part of a national trend that disproportionately affected communities of color.   
Noguera said "our schools are more segregated today" than ever before.
"Inequity is greater than we've seen in 100 years, and significant demographic changes are reshaping communities our schools serve," he said.
The Nogueras' speech at City Hall is part of a series of events linked with the "reForm" exhibit, meant to educate Philadelphians about the current issues with public schooling.
Although Noguera will speak in Philadelphia, he said improving public education should be a national effort.
"Everyone in this country should be concerned about our education system," Noguera said. "What is required for schools to meet the needs of the communities they serve, and what happens when they don't meet those needs."
Erin Blewett can be reached at erin.clare.blewett@temple.edu.