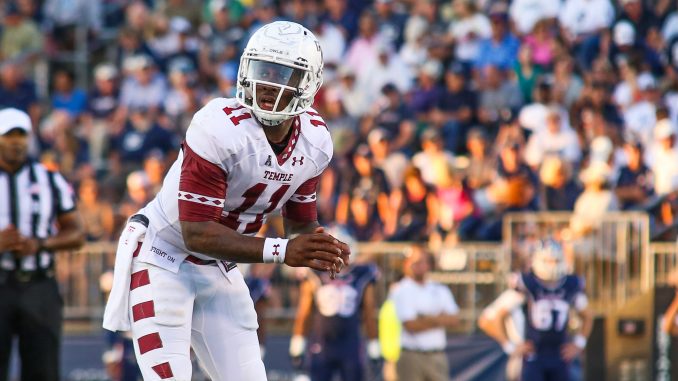 P.J. Walker did not work out with the quarterbacks this summer.
Instead, the junior quarterback spent his time running and lifting weights with the running backs, a first for the New Jersey native
"I've got more of a competitive edge this summer being around a lot of guys who went out there and competed and pushed me," Walker said. "It helped me a lot.
The new training method was part of a productive summer for the 6-foot-1, 200 pound quarterback.
"I've pretty much accomplished what I've wanted to," Walker said. "As the year before last I really didn't. Last year, I didn't, as much as much as I did [this summer]. I set a goal to get my weight down…I feel a lot lighter and I'm way stronger. I feel better."
Last season, Walker threw for 2,317 yards passing, 13 touchdowns and 15 interceptions, a contrast from his 2013 campaign when he threw for 2,084 yards passing 20 touchdowns and eight interceptions.
"It's all a growing process," Walker said. "They said I took a step back. I just say I was still trying to do too much stuff, thinking I was able to do things I did my freshman year that I got lucky on. Now I feel I am able to lead the team and make the right plays, not the wrong plays this year."
Walker's completion percentage ranked 100th in the Football Bowl Subdivsion last season after dropping from 60.8 percent in 2013 to 53 percent. The quarterback averaged 11.41 passing yards per completion, which ranked 75th out of 109 FBS qualifiers.
"I just felt like I was inaccurate with the football last year and that was just me losing focus," Walker said. "I don't think I was focused enough last year during the games, and I've got to be more of a leader."
After a mistake filled 2014 season, Walker said he must trust the Owls' defense more this season, which  allowed 17.5 points per game, 347.1 yards per game and scored six defensive touchdowns.
"I was trying to make too many plays that were dead plays already," Walker said. "Living to play another down is something you have to learn, whether we got to punt it or not. A punt is a winning play for us, especially with our defense out there. You just have to have faith  in your defense."
The offense returns two of its top three rushers from last season and  three of its top four receivers from last season, while adding two three-star plus running backs, one two-star receiver and one three-star athlete  — according to Rivals.com, which Rhule said will help improve Walker's play this season.
"You put better things around him," coach Matt Rhule said. "You try to do too much when you see nothing else is happening. I think all of our players on offense will be much better. We got a lot of talented kids.
Despite Walker's statistical regression last season, the Owls improved their win total by four games and had a .500 winning percentage for the first time since 2011.
With non-conference foes Pennsylvania State University and the University of Notre Dame coming to Lincoln Financial Field, Walker feels no pressure to have a bounce back year this season.
"It's just to go out there and do my job," Walker said. '"Don't try and do too much. Don't try to be someone who you aren't. Just go out there and handle your business. If I do my job, this team will win."
Behind Walker on the depth chart are three underclassmen and one redshirt-junior.Walker, who has started 19 games in his college career, said he embraces leading the younger quarterbacks.
"I feel like those guys and our team will go as far as I take them," Walker said. "I talk to my other teammates about it and they say 'we are going to go as far as you take us' and I have to be on my A-game every game because all these guys are behind me looking at me."
Walker will also be under new leadership. The Owls brought in Glenn Thomas to coach the quarterbacks after Thomas spent seven years coaching with the Atlanta Falcons.
"He is a great guy, he is one of the best," Walker said. "He's a guy that's about the last play doesn't matter. He helps us understand the game a lot more. He tries to make things as simple as possible. But he does a great job coaching us. I love that he is around."
Michael Guise can be reached at Michael.guise@temple.edu or on Twitter @Michael_Guise