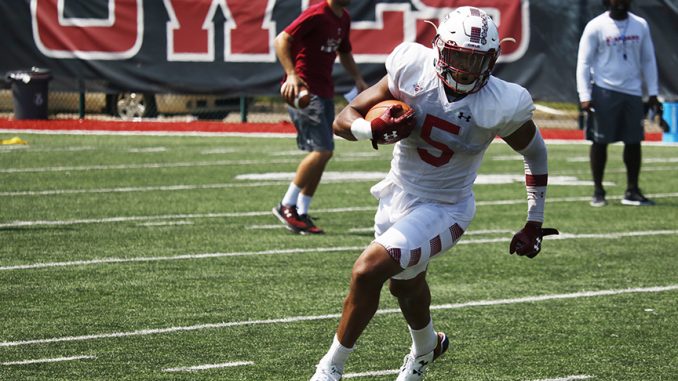 For three straight seasons, Temple knew former quaterback Phillip Walker would take snaps under center once the season started.
But this year, a question lingers around Edberg-Olson Hall: Who will be Temple's starting quarterback on the road Saturday against the University of Notre Dame?
Four quarterbacks — redshirt junior Frank Nutile, redshirt sophomore Logan Marchi, redshirt freshman Anthony Russo and freshman Todd Centeio —  have been competing to fill Walker's shoes since practice began in March. Coach Geoff Collins said last week that three of the four quarterbacks could see playing time in the season opener.
By the Numbers: Temple starting QB debuts
Pass Cmp./Att
Passing Yds.
Rushing Att.
Rushing Yds.
Passing-Rushing TDs
Ints.
Phillip Walker
Oct. 11, 2013 @ Cincinnati
12/22
200
9
47
2-0
1
Connor Reilly
Aug. 31, 2013 @ Univ. of Notre Dame
23/46
228
12
65
0-0
0
Clinton Granger
Nov. 17, 2012 @ Army West Point
2/4
31
9
85
0-0
0
Chris Coyer
Nov. 9. 2011 vs. Miami Univ.
10/19
92
16
97
1-1
0
Mike Gerardi
Oct. 23, 2010 @ Western Michigan Univ.
9/15
131
1
7
3-0
2
Chester Stewart
Sept. 27, 2008 vs. Western Michigan
10/20
60
12
29
0-0
0
Vaughn Charlton
Nov. 2, 2007 @ Ohio Univ.
17/25
161
9
-21
1-0
1
Adam DiMichele
Aug. 31, 2006 @ Univ. of Buffalo
19/24
103
2
-4
0-0
1
The four candidates don't have a wealth of experience — only Nutile and Marchi have collegiate experience, and they have fewer pass attempts than Walker had at his first start. The young group of signal callers will be surrounded by a seasoned group of skill-position players.
"Just being able to go out there on the line and look around at the receivers we have, look next to you at [junior running back] Ryquell [Armstead], look behind you at [redshirt-senior fullback] Nick Sharga and stuff like that, we just have some serious guys on that offense," Russo said. "It just kind of builds confidence for whoever is in there at quarterback, knowing that whoever the ball is going to that they can trust them to make a play, because we got superstars all over the place."
The Owls return their top three wide receivers from last season, including redshirt junior Ventell Bryant, who is on the Biletnikoff Award watch list. The award goes to the top pass catcher in Division I.
The wide-receiving trio of Bryant, redshirt senior Keith Kirkwood and senior Adonis Jennings combined for 123 receptions last season. Bryant said Temple has one of the best group of receivers in the country.
Due to a shoulder injury, Bryant missed three games last season. He returned to preseason camp fully healthy last week after dealing with a nagging hamstring injury that occurred in the spring.
Wide receivers coach Stan Hixon expects Bryant to be ready for the Fighting Irish. But even if Bryant was hurt, Hixon said Temple has 10 wideouts ready to play if necessary.
"I've been down," Bryant said. "Adonis replaced me, [redshirt freshman] Freddie Johnson has really come along. He's looked really good this camp. I'm excited to see what he does this season. [Sophomore] Randle Jones, he's battling an injury but I know what he can do on the field. [Sophomore] Isaiah [Wright] is a dynamic player, he can do everything…so I'm just ready to see these guys play. It's their time."
Armstead is one skill-position player who stepped up due to injuries last season.
While former starting running back Jahad Thomas missed two games with a hand injury, Armstead started. He finished the year with a career-high 919 rushing yards.
Behind Armstead, the Owls also have two running backs — redshirt junior David Hood and junior Jager Gardner — who have each started and seen significant game time.
With three quarterbacks possibly seeing action against Notre Dame, Armstead doesn't think it'll slow down the offense's rhythm if and when different signal callers are substituted. He said he has worked with every quarterback on handoffs and protections throughout training camp.
"I think everybody has rallied around the fact that we've had a lot of returners at offensive line that have played a lot of ball for us and the same with receiver, the same thing with tailback and fullback," Collins said. "Every single day when we come out there whether it's Logan, Frank, or Toddy or Russo, they're getting the ball to them. … I think everybody's rallied around the fact that we're going to make this happen regardless of who the quarterback is per series or throughout a game."