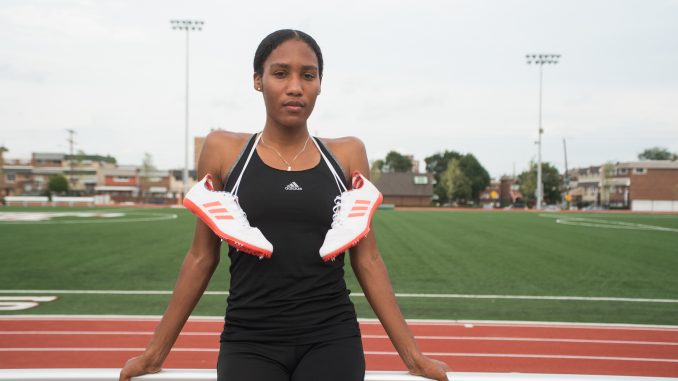 July 28 is Ajee' Wilson Day in Monmouth County, New Jersey.
The Monmouth County Freeholders awarded Wilson's mother, Tonya, with a certificate representing the day dedicated to her daughter.
"It was pretty exciting for all of us," said Serena DiMaso, a county freeholder. "It is just so awesome to have someone you can touch, in the surreal sense, be a part of something so special. To know someone who conquered that dream is pretty, I don't know, I am at a loss of words because it is that special and that emotional."
Wilson was absent from the ceremony. Instead, she was preparing to compete in the 2016 Olympics in Rio de Janeiro, Brazil. DiMaso, who has lived in Monmouth County for 25 years, taped Wilson's races on her home television and watched the Olympian compete.
Wilson, a senior kinesiology major, ran 1:59.75 in the first heat of the semi-finals on Aug. 18 in Rio. She missed out on the women's 800-meter final.
"It is such a competitive event and on any given day, anyone of us could have made the finals," Wilson said. "I wouldn't say I am completely over it, but it is easier to accept it."
Wilson's goal coming into the Olympics was to make the 800 final and win a medal.
The Neptune, New Jersey native finished with her slowest time in her last five races leading up to the semi-finals. She finished third her in her semifinal heat and did not have a time fast enough to qualify for the finals.
South Africa's Caster Semenya eventually took the gold medal in the event.
If she could go back, Wilson said her approach would stay the same.
"It was disappointing, but I did what I was supposed to do," Wilson said. "To come up short, I was disappointed, but later I was proud of myself and happy I could just make it there."
She booked her spot on the United States team by finishing second at the U.S. Olympic trials on July 4. Wilson was the only athlete from Temple at the Olympics. Mark Mendeszoon, who is a 1993 School of Podiatric Medicine alum, went to Rio as a personal physician.
Wilson was not the only member of Team USA from Monmouth County. Swimmer Connor Jaeger, track and field's Robby Andrews and fencer Monica Aksamit are all from the same county as Wilson. She is one of 38 Olympians from New Jersey.
Most countries bring a box of small lapel pins with them to the games.Wilson recalls some of the best times coming from the dining hall in Olympic Village, trading pins with athletes from other countries. She started with 10 pins and finished with 26.
After missing the opening ceremony, Wilson attended the closing ceremonies as rain came pouring down on athletes and performers.
Wilson is not waiting for the next Olympic Games, but is focusing on the rest of her season. She did not leave Brazil with a medal, but has memories both she and Monmouth County can remember.
"Once you walked down and saw all the countries with their flags, you forgot about the rain." Wilson said. "It was a great experience."
Connor Northrup can be reached at connor.northrup@temple.edu.