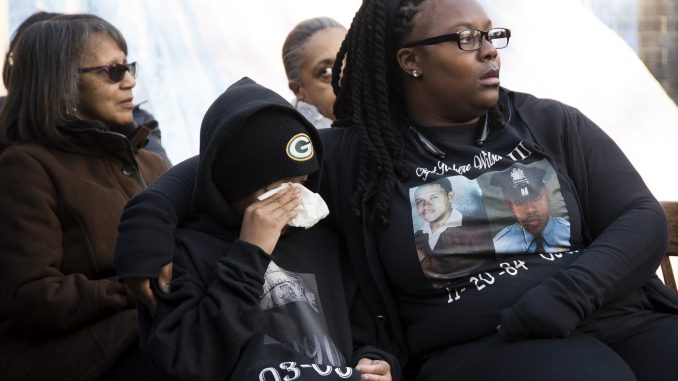 Philadelphia Police Commissioner Richard Ross stood at a podium behind the 22nd District's station, as the sun cast a slowly dimming shadow on a mural painted on the station's rear wall Saturday afternoon.
As he spoke about Sgt. Robert Wilson III—an eight-year veteran of the force who was fatally shot at a GameStop near 21st Street and Lehigh Avenue on March 5, 2015—he reminded the gathered crowd that even though a year has passed, the Wilson family still needs support as they grieve through the loss of a fallen hero.
"I just hope that in your days to come that you have moments that you remember his smile, you remember those moments that he made you laugh," Ross said to the Wilson family. "And maybe just for a brief moment, you can part from some of that grief and help you get through some of the days."
Ross' comments occurred during a one-year anniversary vigil for Wilson, where officers, friends and community members attended and paid tribute to an officer who was posthumously awarded the Robert F. Wilson Award of Valor, the department's highest honor.
Along with Ross, Mayor Jim Kenney, President of the Fraternal Order of Police Lodge 5 John McNesby, District Attorney Seth Williams and others spoke about Wilson's life.
Ross said he met with Wilson two weeks before his death, and told family members about the "joy" his smile brought to the department and whomever he encountered every day. He then requested one favor of the dozens of officers collected on 17th Street.
"Honor his memory with your service," Ross said. "With your dedicated professionalism and your service to this city. Because these people standing here today and seated here today deserve nothing less."
Mayor Jim Kenney said during the vigil that there's no explanation for tragedies like Wilson's death. He called on audience members to imitate his behavior in order to preserve his memory.
Williams said during the vigil he was trying to figure out his dinner plans when he got a phone call about the news.
He recalled the day after Wilson's death, when he saw the final moments of Wilson's life on the Gamestop's surveillance footage.
"I've never seen anything as heroic and brave as what I saw that day," Williams said.
"I want everyone to remember, we're all people," he added. "And to value each other and enjoy each other because we never know when our last moment, our last breath may be."
Shakira Wilson-Burroughs, Wilson's sister, said she and her brother stayed in touch every day. She praised Wilson's character outside of what he did for Philadelphia Police.
"He was a man behind the uniform," she said. "He chose a profession. He chose a decision to become an officer, to protect. These officers, including him, they're people. Lives are precious and these people that decide they just want to take lives, it's beyond."
After the vigil, balloons were handed out and then released into the air in honor of Wilson. The colors were yellow and green, because Wilson was a Green Bay Packers fan, 22nd District Police Capt. Robert Glenn said.
Kenney told The Temple News it's important for the police department and others throughout the city to help Wilson's family, especially his two sons, through this time.
He added that most community members and police officers have good relationships throughout the city, including the 22nd District. He noted how the community rallied around Officer Moses Walker when he was fatally shot in August 2012, and Wilson since last year.
"The people who live in this neighborhood, are 99 percent by and large good, good people," he said. "They're the people living with a lot of this crime, so they appreciate the police officers. We just have to make sure we evolve our relationship with the community and police, especially our young folks … it's a difficult narrative that we have to work at every day."
Steve Bohnel can be reached at steve.bohnel@temple.edu or on Twitter @Steve_Bohnel.
Video by Harrison Brink.