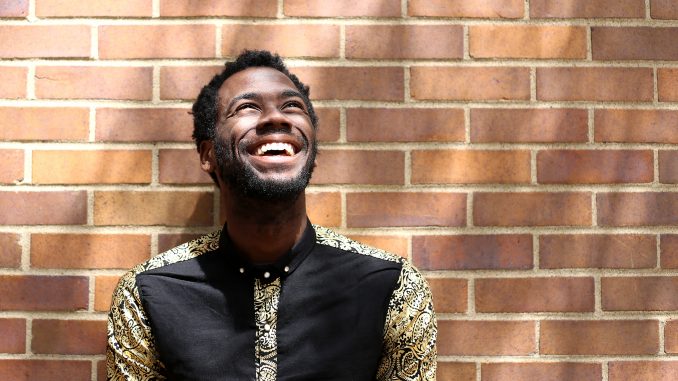 Darryl Gene Daughtry Jr. said that when he was in the seventh grade, he was hanging on to one last shred of hope that he could still be popular while performing in the choir.
The Temple senior said he wanted to do something with his role as the Tin Man in his school's musical production of, "The Wiz," to salvage his "coolness."
"I made my Tin Man wear a fitted 'do-rag' and everyone, including my choir director, loved it," Daughtry said. "I was like, 'OK, I can make this my own.' That was the moment when I thought, 'I can do this.'"
"Man, that was a long time ago," the theater major said, shaking his head.
Upon graduating, Daughtry will be entering into The Juilliard School's graduate program in New York for theater, with a focus in acting
Juilliard's four-year program was appealing to Daughtry because of how much time it would allow for him to transition from being a graduate student and a working professional.
A native of Pittsburgh Daughtry said he frequented Brooklyn, New York, with his family. He views New York, he said, as electric.
"There's something about the air," he said. "The opportunity for self-starters I feel like is so doable in New York. I'm a very big person on self-starting. I want to work on my own projects, get my name out there the way I want to get it out there."
His plan while in New York, he said, starts with a house.
"I want to get a house and invite everyone … over for Sunday dinner, every Sunday," he said. "When you eat together, it creates a fellowship that is unlike any other. … When you prepare a meal together and pass the salt to someone, you are passing life to them. That is an experience that I would like to share with them."
His time at Temple, however, did not begin in hopes of pursuing a graduate degree. Daughtry said his decision to go into higher education came much later in his undergraduate experience.
Toward the end of his freshman year at Temple, Daughtry said there were moments when he stepped off stage and he didn't remember what he did on stage moments before – he was totally in character. Those moments, he said, were the times when he realized that acting is what he should do with his life.
"If I can come off stage transformative, transforming from what I was going into [the show], that means this is something that I am called to do, something that I love to do," he said.
Daughtry said James Ijames, a former Temple instructor, actor, director and playwright, was one of his biggest inspirations during his time in Philadelphia.
"I see him as, not only are you a great performer that I can steal things from or I can get inspired by, but you are providing work for me," he said. "I look up to him a lot."
In addition, Daughtry said Lynne Innerst "hands-up hands-down" was the most influential professor for him at Temple because "she really taught me how to act," he said.
To only focus on theater for the next four years at The Juilliard School, he said, is something he is looking forward to.
"It's so nerdy, but I cannot wait," he said. "There is nothing like working on the voice, working on acting, working on dance and singing for a straight four years. You're going to become such a better performer. I just can't wait."
His goal for the future, he said, will change throughout the day. Daughtry said he wants to become more of a modern performer in the future and hopefully bring that perspective to the theater world.
"I really want a legacy," Daughtry said. "I want to have enough money to make a theater in a community that doesn't have one. … The same way I was infected by this bug, I want to be able to infect other people."
"It's always nice to see a young man or black woman come up to me and say, 'Wow I didn't think that I could do that. And now that I've seen you do it, I can do it as well,' he added. "I think getting into Juilliard for a lot of people, that was inspiration."
Emily Rolen can be reached at emily.rolen@temple.edu.