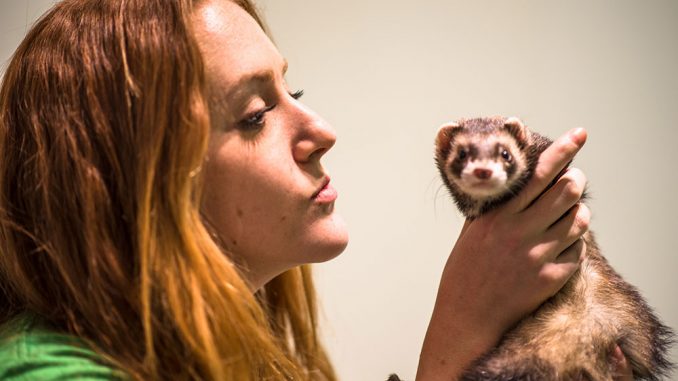 Senior painting major Rachel Black owns three ferrets – all of which she adopted when their previous owners could no longer care for them. She is spending her final semester establishing a new club, Temple Animal Welfare, which promotes awareness of the way animals are treated by the food industry.
Black, who said she has always been a lover of animals, became passionate about animal rights as a teenager. She pushed herself to learn about things that may not be well-known to the general public, whom she said often avoid confronting distasteful treatment of animals.
"Meat corporations do not want you to know about everything that goes on within the industry, but I spent a lot of time researching it and became passionate enough to want to spread the information to others," Black said.
Black has been a vegetarian for six years and has recently become a vegan. However, she said, the club will focus on more than people's dietary choices.
"This club is not a vegetarian or vegan club, and I really want to emphasize that," Black said. "This club is open to any animal lover or anyone who wants to know more about the cruelty done to animals, even if they are a meat lover."
Though TAW is not a vegetarianism-based club, Black plans on working with the club to create more vegetarian options at Temple's dining services.
Black said her goal with TAW is to raise awareness of animal welfare in a contemporary society. She plans to do that through events such as leafleting, film screenings and setting up information tables about TAW. Group activities are something she hopes will draw interest as the club is established.
Black also plans to raise money for organizations dedicated to helping animals, such as the Humane Society and the Humane League, an organization Black said she initially drew inspiration from.
It was after volunteering with the Humane League that Black decided to start an animal rights awareness club at Temple. The club is an outlet for her passion for ethical animal treatment, she said.
"On a college campus, there is a huge audience of open-minded, young people," Black said.
After she receives her degree, Black said she hopes to continue logging volunteer hours at an animal welfare organization, such as the Humane League, and eventually earn a paid position at one.
"In order to work for organizations like the Humane League you have to put in a lot of volunteer time, which I have been working on lately," Black said.
To connect her painting major to her work in animal activism, Black uses her art as a way to depict cruelty toward animals in hopes to raise awareness. She said she gives particular attention to those trapped in harsh factory farm conditions in her artwork, she said.
Black has also written research-based articles for StopFactoryFarms.org, a website for the Humane Farming Association. Additionally, she promotes "Meatless Mondays," a national campaign attempting to stop public schools from serving meat once a week.
The club's first event will be attending a reception and cocktail hour for the Humane League, called "The Future of Food." Black said she also plans on organizing a vegan bake sale and having club members participate in volunteer days.
Kristi Fidler can be reached at kristi.fidler@temple.edu.