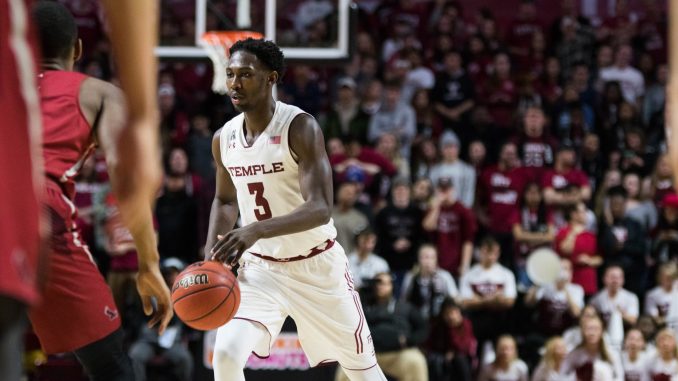 After Wednesday's win against the University of Wisconsin, junior guard Shizz Alston Jr. said it seemed like every time Temple won a big game it played an Atlantic 10 Conference school in its next game.
Temple lost to La Salle on Nov. 26 in its first game after winning the Charleston Classic. The Owls lost to George Washington University on Dec. 3 after beating a University of South Carolina team on Nov. 30 that entered the game with one loss.
Temple (6-2, 1-1 Big 5) broke its three-game losing streak against Atlantic 10 schools dating back to last season and won its first Big 5 game of the year by beating St. Joseph's, 81-78, on Saturday at the Liacouras Center.
The Hawks (4-5, 0-2 Big 5) entered Saturday's game averaging 8.9 turnovers per game, the third-lowest number in Division I. They had 13 turnovers, which led to 17 Temple points. St. Joseph's coach Phil Martelli said facing the Owls' defense concerned him more than the task of trying to limit scoring opportunities for sophomore guard Quinton Rose, junior guard Shizz Alston Jr. and senior forward Obi Enechionyia — who entered averaging a combined 48.4 points per game.
"They pressure you, so you have to make a basketball play," Martelli said. "You have to be able to use your dribble to get by somebody."
Temple nearly let the game slip away. The Owls held a 16-point lead with five minutes, 25 seconds left in the second half. St. Joseph's went on an 8-0 run from the 3:17-mark to the 1:32-mark to cut its deficit to four.
Hawks senior guard Shavar Newkirk started the run with two free throws. He scored eight of his team-high 18 points from the free-throw line.
Then freshman forward Taylor Funk made two 3-pointers to trim the Owls' lead.
Funk, who entered play 44th in Division I with 3.1 made 3-pointers per game, made three 3-pointers in the final four minutes. He finished with 15 points on 5-of-6 from 3-point range.
"I think whenever he shoots it, no matter where he shoots it from, he needs no time and no space," coach Fran Dunphy said. "It's a pretty impressive performance by that kid. But he's been doing it all year. It's not like we didn't talk about it. We were getting nauseous talking about it, and he made us pay certainly late."
Fran Dunphy https://t.co/mm9fIlJT3p

— Temple News Sports (@TTN_Sports) December 9, 2017
Redshirt-senior guard Josh Brown closed the game at the free-throw line Saturday. Brown, who played with a protective facemask after taking a hit to the nose against the Badgers, made 5-of-6 free-throw attempts in the final minute. Brown scored 13 points and shot 7-for-8 from the free-throw line.
Temple shot 14-for-19 from the free-throw line and 11-for-14 in the second half. St. Joseph's, which shot free throws at a 66.7 percent clip entering play, shot 54.5 percent, including 8-for-16 in the second half on Saturday.
During Wednesday's win against Wisconsin, Alston closed the game at the free-throw line, finishing 6-for-6 to extend his streak to 52 straight makes and set a new program record. He missed his first attempt Saturday to end the streak. Alston scored 15 of his game-high 20 points in the first half.
Alston shot 5-for-8 from 3-point range and is shooting at a 53.5 percent clip from beyond the arc this season.
"I try not to take bad shots," Alston said. "I watch a lot of guys that was efficient, even one of the guys that we're about to play in [Villanova junior guard Jalen Brunson]. He takes good shots, so I just try to do that."
"When the shot clock was running down, I always tended to take long threes," Alston added. "So now I try to get to the basket more and then shoot the open threes."
Shizz Alston Jr and Ernest Aflakpui https://t.co/bD7nNuqUjY

— Temple News Sports (@TTN_Sports) December 9, 2017
Two other Owls finished in double figures. Rose had 15 points, and junior center Ernest Aflakpui had 12 points to finish two short of his career-high.
Aflakpui didn't score against Wisconsin and hadn't scored more than six points in a game this season before Saturday.
Freshman forward De'Vondre Perry played a career-high 21 minutes because Enechionyia had to sit with foul trouble. Enechionyia only played 23 minutes, a season-low. He scored four points, far below his season average of 13.9 entering play. Perry scored a career-high nine points and shot 3-for-6 from the field.
Temple's next game is on Wednesday at the Liacouras Center against Villanova, which is ranked No. 4 in the Associated Press Top 25 poll.
The Wildcats (9-0, 2-0 Big 5) are favored to win their next game, a Big 5 contest against La Salle on Sunday, by 21 points, which would extend their Big 5 winning streak to 21 straight games.
"The thing that they don't get enough credit for is how good they are defensively," Dunphy said. "They all can score, and they're all shooting the ball great…and they attack after they get a missed shot or a turnover. They're making you pay."