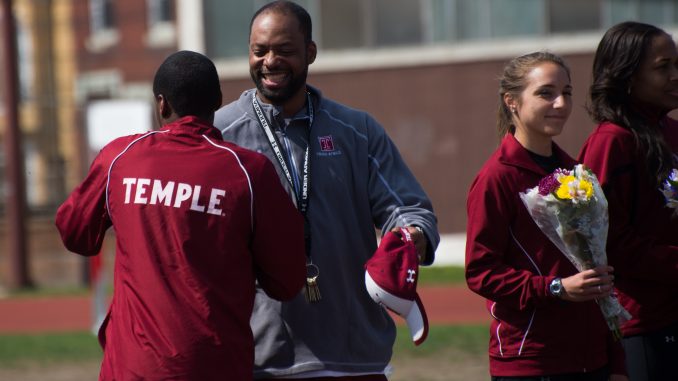 Past track stars ran on track one more time when they competed in the "Alumni Mile" at the Owls Alumni Invitational on April 19, the first one on Main Campus since the 1970s.
Most of the alumni were content to just keep up with the rest of the runners, but former 2009 Temple grad and current assistant coach of the track team Marquise Stancil streaked well ahead of the pack.
"Slow down," the booming voice on the overhead speaker said.
Stancil laughed and dropped back, allowing the other runners to catch up.
"It was great," Stancil said. "Just being able to run again with some of my former teammates that I had great times with was great. It kind of reminds you of why you came out to practice every day and who you ran for."
One of the underlying themes from the day was the cuts to the men's program that will go effect after the season. Many alumni mentioned their discontent with the news.
"We are very disappointed that they dropped the track program here," Dr. Larry Stone, a member of the 1968 team, said. "I can't tell you how upsetting that is."
Temple previously dropped its men's cross country program in the 1980's, but brought it back 20 years later.
Graduates of the class of 2012, like Lou Parisi and Geoff Barletta, were able to reconnect with former teammates and old friends and reminisce on times spent.
"It's great not getting sick to your stomach because you know you have to race in a couple hours, but it is great being here," Parisi said. "When you spend so much time on this track it is good to get back and see some familiar faces."
Tucked among the crowd were members of the 1968 team as Stone, Peter Julicher, Joe Connelly, Michael McSweeney and Joe Smith returned. These men were from the days of running up and down stairs for training and taking bus rides to Temple Stadium. They competed without the advantages of polished facilities and nutritional and strength training.
"It is a lot more scientific now," Stone said. "Everyone had their own routine."
Even without these perks the group was able to capture the IC4A cross country championship in 1966 and the Mid-Atlantic cross country championship in 1967.
The day also marked a chance for the team to show appreciation for its seniors as head coach Eric Mobley and distance coach James Snyder joined them at midfield.
"It is pretty cool," senior Will Kellar said. "I think it's kind of a shame the men's team is not going to have a chance to do this, but it's nice you get recognized for four years of hard work."
The event also had an international flair as 2011 Temple grad Josue Louis participated in the events while representing Haiti, where his parents were born.
"It was actually very interesting," Louis said. "To see the new kids coming up and some of the old guys coming back out and competing was pretty fulfilling."
Louis is a regular competitor for Haiti and has competed in events in Canada and France and plans to compete in Florence Italy this summer.
Toward the end of the day, Mobley ran with the second group of the 4×400 relay. Mobley cut across the field to finish, but was in good spirits afterwards.
"Today's event was phenomenal," Mobley said. "It was great to see our athletes finally get an opportunity to compete at our home venue with their family and friends at our campus. It was just fun to get out here and run with those alumni guys who all ran for me. It was pretty special for me."
Stephen Godwin can be reached at stephen.godwin@temple.edu or on Twitter @StephenGodwinJr.