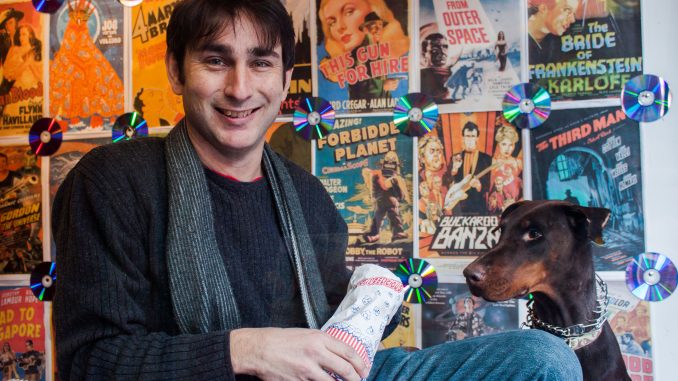 When Bill Arrowood opened a movie theater last month, he felt the adult store next door gave people the wrong idea about his store on South Street.
"I decided to run cartoons during the day to show that the cinema was for families and community," said Arrowood, a 1995 radio, television and film alumnus. He is also the assistant director of the South Street Headhouse District, a neighborhood community organization.
Now, he plays "Looney Tunes" to show patrons that his business is meant to be a fun space for all ages.
One of the newest additions to South Street, across the street from the Theatre of Living Arts, is South Street Cinema on South Street near 4th. The cinema is owned and operated by Arrowood. The alumnus uses his more than 15 years of experience in the film industry to create a space for both moviegoers and filmmakers.
Arrowood previously worked as a location scout for years on projects like "It's Always Sunny in Philadelphia."
He opened the theater last month, and he keeps the prices of screenings low at a $5 suggested donation per person, with popcorn included.
In his two and a half years living in the neighborhood, Arrowood has gained a lot of knowledge about the area and its history. He decided it would be the perfect place to focus on community arts.
"I like the idea of South Street because it has history and it's weird and things happen here," he said. "You can do something quirky and unique because it feels like it fits."
This is what Arrowood hopes to portray on screen at South Street Cinema, where he plays independent films and low-budget movies that he feels are best enjoyed in a group.
"I sit [in the lobby], and it's awesome to hear people laugh together," Arrowood said.
Wil Keiper works with the Philadelphia Unnamed Film Festival, which annually highlights artists making independent films. Keiper expressed the need for a movie experience like the one South Street Cinema provides.
"There are no movie theaters in Philly that cater to genre films and we have had to work…to find alternative spaces to do screenings," Keiper wrote in an email. "It is an intimate space where you can hang out before and after the show to discuss films. It's a film lover's paradise."
Once a month, Mondo Philly, an independent film society with a large collection of low-budget movies, comes to the theater to display films from their collection, like "Turkish Star Wars," a 1982 Turkish science fantasy adventure film that used unauthorized footage from "Star Wars" and other films.
Arrowood also shows "The Three Stooges" to pay homage to Larry Fine, who starred in the cult short comedy film and was born on South Street.
He also hosts events where artists can showcase their work. Beginning this month, South Street Cinema will host live comedy followed by screenings of "Mystery Science Theater 3000," a science comedy television series, every Sunday at 7 p.m.
On Wednesdays, Arrowood will host "open screens," which work as an open mic-style event for independent filmmakers searching for a space to share their films and get feedback from the intimate crowd.
"It gives artists an opportunity to get together and talk to other artists or not talk and just get to look for other art and learn," Arrowood said.
Robert Perry, the owner of Tattooed Mom, a bar on South Street near 5th, said the South Street community has historically been a place for all artists to meet and share ideas.
"We're excited to welcome the South Street Cinema to the vibrant creative mix of independent creative businesses and fun entertainment destinations in the neighborhood," Perry wrote in an email.
Arrowood hopes this space builds camaraderie and community with film lovers.
"The real goal is to create an atmosphere on South Street that makes people remember that South Street is still a place where you will see unusual and cool things, so it will be relevant and engaging as a community," he said.