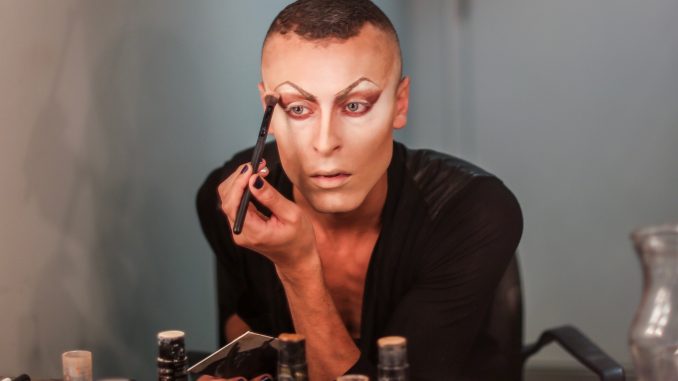 Cory Wade spent two hours prepping for Monday night's drag show, a process that involved plucking, priming, painting, powdering and pasting — with Elmer's glue sticks — a full face of makeup.
The drag show took place at the Temple Performing Arts Center as part of Temple University's National Coming Out Week. Wade is a model, musician and LBGTQ activist known for his third-place finish on Cycle 20 of the reality show America's Next Top Model in 2013.
He also hosted Temple's first ever NCOW drag show in 2012 and returned Monday as part of Temple NCOW's 10-year anniversary celebration. Wade was the first openly gay male contestant on ANTM.
Wade, who grew up in Wallingford, Pennsylvania, described returning home to the Philadelphia region to host Monday's show as "magical."
"It's been five years since I appeared on ANTM," Wade said. "I feel like I'm at a more mature place in my career and I'm going and sharing my experience with young queer people who are about to have to function in our societal structure."
"Coming to Temple University, it is magical, because, like, it's my hometown," he added.
His drag persona, "Serena Starr," which he created while living in Philadelphia, caught the attention of NuRodney Prad, the director of student engagement of IDEAL, as Prad searched for a host for the first NCOW drag show. This was before Wade's ANTM stardom, which would come a year later.
Prad said Wade's vivacious personality captivated students and sold out the show.
"We wanted him to come back for the second year, but he had gotten onto [ANTM]," Prad said.
"I didn't have any notoriety at the time," Wade said of the 2012 show, adding he began building a name for himself two years prior by practicing drag in the Gayborhood.
Wade was never a stranger in the world of bright lights or heavy makeup. He attended Point Park University and got his first big break performing the musical "Rent" in Philadelphia. Even at Strath Haven, his high school in Delaware County, he scored leading roles in musicals.
Wade said he auditioned for ANTM simply to get his name further into the public sphere.
"I used to go to every audition under the sun, even if it wasn't relevant to what I was truly passionate about," he said. "I did not expect for that to have been the breakthrough for me. I didn't, I really didn't."
Wade came out as gay at 17, but ANTM challenged him to share his sexuality with a wider audience.
"Cameras were on me the entire time," he said. "Whatever I did could very well get aired out for the entire world to see. … I don't feel like it [needed] to go down that way, but it did and it's okay."
Though he was praised for this openness on ANTM, Wade said he downplayed his sexuality to conform to the traditional gender roles modeling glorifies. The prize at the end of the season — a contract with Guess — represented these gendered ideals.
"It's like I was competing to meet the standard expectation for the ideal male model," Wade said.
After seeing his impact on viewers, he said he realized the value of his presence on the show.
"When a little gay boy from Russia private Twitter messages you, telling you being on the show, helped [him] reach a place of self-acceptance … that made it so much more purposeful," Wade added.
Wade credits his parents for fostering a safe place for expression in his own youth. His mother is Nigerian and Congolese and his dad is German and Italian.
"They've had to fight for the validation of their love [and] I feel like they could relate to the struggle that any gay person has to go through to fight for validation," he said.
That's not to say Wade's coming out journey was all sunshine and rainbows, like the colors on the toy unicorn propped on his dressing room vanity. Wade said one of his grandmothers temporarily "excommunicated" him because of his sexuality.
Their relationship healed when she saw Wade's positive impact on fans' lives. Wade said he harbors no hard feelings against her and stressed the importance of empathizing with both the LGBTQ community and those who disagree with it.
Several Temple students who watched ANTM were excited to see Wade perform on Monday.
"He had a lot of positive vibes on the show and definitely paved the way for others who are LGBTQIA," Cora Cozia, a senior biology major, said.
For first-time drag queen Noah Rottman, known on stage as "Nora Epinephrine," drag represents a form of art. Rottman said he's seen Wade's modeling on Instagram.
"It was really neat that he would come here and host this," Rottman said, whose drag performance as a Wallstreet executive represented a greater social issue.
"I'm thinking about doing looks [inspired by] careers that women typically aren't associated with." Rottman added. "I thought that would be very empowering."