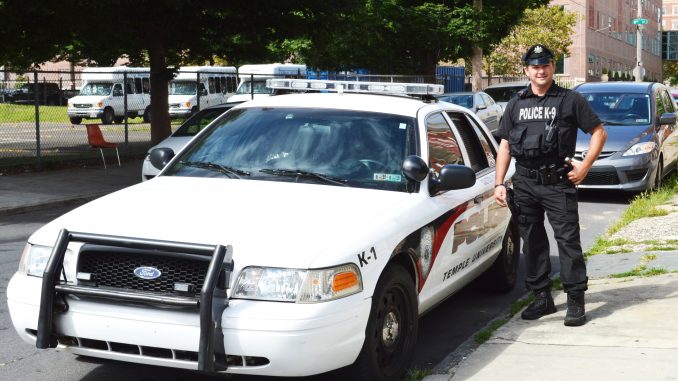 Temple Police expanded its patrol zone nearly 25 square blocks, mostly extending its boundaries to the west and southeast of Main Campus, the university announced last week.
The new patrol zone is bound by 18th Street to the west, Susquehanna Avenue to the north, Ninth Street to the east and Jefferson Street to the south.
In an exclusive interview prior to the official announcement, Executive Director of Campus Safety Services Charlie Leone said officers began patrolling the new zone the weekend beginning Aug. 29.
Student government members and Temple administrators said this spring's brick assault influenced the decision.
In March, a group of youths attacked four Temple students in three different incidents, all just beyond the Temple Police patrol zone.
Since the victims notified Philadelphia police first and the incidents took place beyond the Temple Police patrol zone, Temple officials were not aware of the attacks and did not make a statement until three days later. No TU Alert or TU Ready was sent.
"I think that kind of hit home and said, you know, we really have to take another look at this," Leone said.
Darin Bartholomew, last year's student body president, said Temple Student Government reached out to Temple administration two days after the incident.
"Campus safety was at the forefront of everything that we did," Bartholomew said. By the time he graduated in May, the expanded police coverage "was going to happen, [Temple] just had to cross the 'T's and dot the 'I's," he said.
The current Student Body President, Ray Smeriglio, said the new patrol zone should be much easier for students to understand than the previous zone.
"If you looked at the grid before, it was a little funky with what it encompassed and what it didn't," Smeriglio said. "Now we've got this easy box grid that fully encompasses our campus and the outliers to our campus as well."
Residents living between 16th and 18th streets can expect to see both Temple and Philadelphia police patrolling the area, Leone said.
"It is still part of [the Philadelphia police's] patrol," Leone said. "We're just a supplemental patrol."
Bartholomew said Philadelphia police's 22nd district, into which Temple will now be expanding, was very busy.
"Hopefully the TU Police can take some of the pressure off them," Bartholomew added.
A small sample of students was mostly positive.
"You never see police out there," said Paul Carbone, a senior management and information systems major. "Last night I felt safe, I think I saw a cop on every corner."
Stacey Newman, a sophomore accounting major who lives near the corner of 18th street and Montgomery avenue, said she will feel safer returning home from night shifts at McDonald's.
"A few men are usually outside walking around," Newman said of her walks home, often as late as 4 a.m.  "I have been approached or spoken to by more than one. I usually get asked to be taken out but I turn down a lot of them and they seem to get mad."
"This new patrol zone makes me feel safer knowing the police are going to be closer," Newman added.
Johnny Gossett, a 72-year-old community member, favored the decision to expand the border. "I'm all for it," he said. "Some of this stuff can get out of hand around here."
Crimes reported in the expanded zone will be added to CSS' crime log but will not be counted in Clery Act statistics, Leone said. The federal law, passed in 1990, requires schools to submit an annual report of all the reported crimes that occurred during the previous three years.
Additionally under the Clery Act, higher education institutions must issue "timely warnings" about crimes that present a threat to students and employees on campus. Temple's "timely warning" is known as a TU Alert.
The new patrol area is not required by the Clery Act.
Smeriglio and Bartholomew also discussed extending Temple's Code Blue emergency phones farther out into the community. Accomplishing that "may require some legislation," Smeriglio said. Bartholomew attributed the difficulty to new emergency phones not being located on Temple property.
"We're definitely exploring that," Leone said. "It's just a matter of reaching out one by one."
Safety services like the walking escort program and TU Door, a shuttle bus which takes students to their off-campus housing, would not change with the new crime zone, Leone said.
Leone added that he believes the new patrol zone can be accomplished without upcoming hirings.
"We're at our optimal number," Leone said. "We were able to really, over the year, build our force up to where it needs to be."
Smeriglio stressed that the extended patrol zone was intended to focus on quality of life issues.
Since Temple Police began patrols in the extended zone 12 days ago, six crimes were reported in the blocks added: an incident of public drunkenness, three of underage consumption, one of disorderly conduct and one case of criminal mischief.
"In the last few years, it's been exponential growth," Leone said about the student population off Main Campus. "With that, we saw the need to change."
Marcus McCarthy and Joe Brandt can be reached at news@temple-news.com 
Avery Maehrer and Patricia Madej contributed reporting.