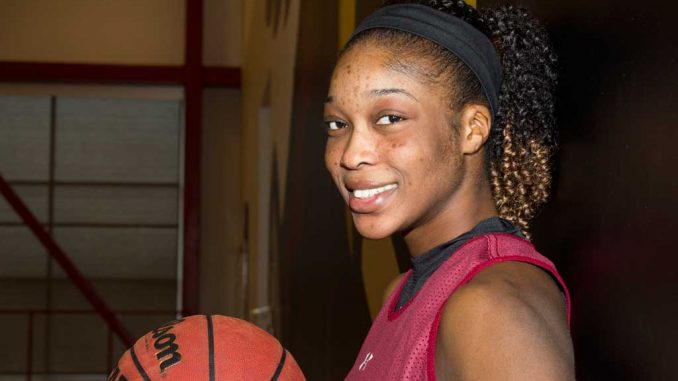 Senior center Victoria Macaulay doesn't want one play to haunt her career.
With seconds remaining in the Atlantic 10 Conference semi-finals against Dayton in March, down by one, Macaualay grabbed an offensive board under the basket, dodged defenders and put up a layup that fell just short.
She was inches from sending Temple to the finals.
"That shot really affected me," Macaulay said. "Never again will I [take] a reverse layup, same side."
In what turned out to be her breakout season, Macaulay became a weapon for the Owls behind standout guards Shey Peddy, Kristen McCarthy and BJ Williams, all of whom have graduated.
Macaulay is the focal point now. Redshirt-junior forward Natasha Thames is the lone returning starter, but missed all but eight games last season with a knee injury. There's almost no depth, after forwards Nikki Works and Brittany Lewis transferred and have been replaced by three freshmen forwards.
"[Macaulay's] not going to be able to have [players] like [McCarthy and Peddy] to bail her out or carry the burden, it's going to be on her," coach Tonya Cardoza said.
"This is our year," Thames said. "We've been together for four years and now this is the year for us to play together, so I think we're really looking for each other on the court."
For most of last season, none of this could be said about Macaulay, a 6-foot-4-inch Staten Island, N.Y., native. For two years she had underperformed and lost significant playing time to recently graduated center Joelle Connelly.
She had all the tools to be the best center in the conference, but none of the drive, Cardoza said.
"Her first two years we were screaming at her about getting in the weight room and getting stronger," Cardoza said.
"Me and [Macaulay] could always score, we just didn't have the mentality that we have to score because we had so many other scorers on the team so we just kind of sat back and let them do everything," Thames said.
Macaulay averaged 6.6 points and 5.5 rebounds per game during the team's non-conference schedule last season despite being the most talented big on the court most of the time. Then, with the start of the A-10 season, Macaulay exploded onto the scene.
She averaged six points and 11 rebounds in the first four A-10 games, but kick-started a campaign that earned her the Big 5 Most Improved Player with 20 points and eight boards against Penn on Jan. 21. For the team's final 16 games, including five postseason match-ups, she averaged 12.5 points, 7.8 rebounds and recorded her first two double-doubles.
"Somewhere around January, her whole approach to basketball changed," Cardoza said. "I think she knows there's a future for her beyond college and I think she understands that now."
"I think she saw what [Peddy and McCarthy] were experiencing during their senior year where people were talking about them going and playing overseas, and I think that that's something she wants," Cardoza added.
Cardoza said Macaulay's late-season surge meant there was no room for disappointment. Her star center has proven what she's capable of and now the coach believes averaging a double-double this season isn't out of the question.
Macaulay's goals are to win an A-10 Championship, be named to the A-10 All-Defensive Team and improve her leadership skills, she said.
"Every single night, most of the time, I'm trying to be in the gym shooting, working on my post game, working on a variety of things like my [ball]-handling just so I can have that wide spread of skills to execute when it comes to game time," Macaulay said.
It's not going to be easy. Teams are going to focus on shutting down Macaulay while attacking the guards to force them into mistakes, freshman guard Tyonna Williams said.
"Eventually teams are going to start double-teaming her, triple-teaming her, keeping the ball out of her hands and then that's for us, as guards, to step up and make shots and make plays," Williams said.
Cardoza is most worried about keeping Macaulay's head calm during trying times. So far, Cardoza hasn't had to refocus Macaulay in practice, she said.
"We haven't had to remind her about [the missed layup against Dayton], but I know that I always have that in my back pocket if I need to," Cardoza said.
If Macaulay has her way, that subject won't be brought up the rest of the season. She'll be rewriting that script.
Jake Adams can be reached at jacob.adams@temple.edu or on Twitter @jakeadams520.