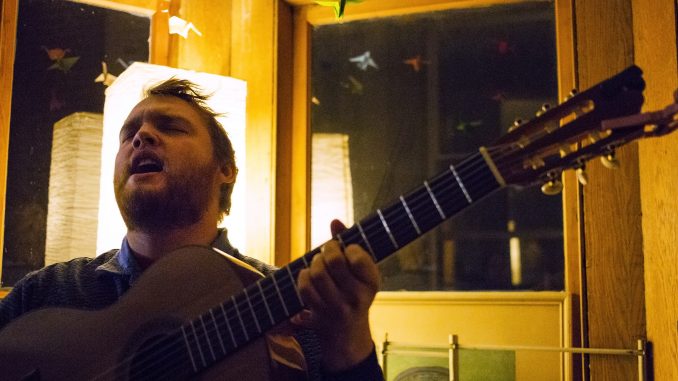 For DIY bands, it only costs $10 to put on a show.
That is, with the help of the PA Share from the organization that puts on DIY PHL, an online and print calendar that compiles shows in the underground music scene.
One of the founders, Ramsey Beyer, said the idea of the PA Share really took off in February 2014.
For only ten bucks, members of the PA Share have access to all the necessary musical equipment needed to put on a show or any other type of DIY event. The idea for the Share was born after a November 2013 event hosted by DIY PHL called "First Time's The Charm."
"There are these boundaries that exist in punk scenes that we don't always acknowledge," Beyer said. "[One being] the fact that people don't feel like they have the space or respect to be in a band for the first time. We put out a call for people to form bands, and each band played their first show at this event."
Beyer said "First Time's The Charm" was held at PhilaMOCA and completely sold out. With the money raised during the event, they could buy a PA system for the program.
Both established and up-and-coming musicians have benefitted from the system. Just this past year, the PA Share has been used at more than 90 shows.
"The PA Share is such an incredibly valuable resource," said Sam Cook-Parrott, guitarist and vocalist for Philadelphia based group, Radiator Hospital. "It's so cheap to become a member and that is part of the reason why it is out of commission. They don't have any money to fix it. You still need to find a place to do your show, and you still need to find bands, but it's so amazing that anyone can book a show and anyone can use it for anything."
After a blown speaker forced the PA Share out of commission, a benefit show was announced. Local Philly groups like Radiator Hospital performed alongside traveling bands like Quarterbacks, a band from New Paltz, New York and Girlpool from Los Angeles at an acoustic show at the Hazel House on Jan. 11. The funds raised from the show will go toward repairs and the purchase of a back-up speaker.
Cook-Parrott praised DIY PHL for its efforts in making the DIY scene in Philadelphia as inclusive and welcoming as possible.
"It's really important for any sort of scene that claims to be open and inviting to have a website that anyone can go to," Cook-Parrott said.
DIY PHL, started in February 2012, is modelled after a similar website created by Ramsey Beyer when she lived in Chicago in 2011.
"We definitely had to do a lot of leg work in the beginning," Beyer said. "Once a month before the print calendar is about to come out, we send a huge email to people who book shows in Philly reminding them to submit their shows."
Promoting the shows is the only way Nick Pelletier, guitarist for Shrink, a Philadelphia-based band who frequents DIY shows around the Temple area, said he feels the scene has survived.
"As important as the musicians involved are, I would argue that the audience is even more important," Pelletier, sophomore biology major, said.  Without an audience, us musicians couldn't do what we do."
In an effort to promote shows outside of an online-only context, Beyer and her team print a physical calendar each month to hang up in public spaces around the city, as well as handbills to pass out at shows.
"We ask a different artist to do art for our poster each month, as another way to highlight ways that people participate in punk," Beyer said. "It's not always through music – sometimes it's through art or other things."
DIY PHL continues to help the ever-growing scene in Philadelphia thrive and be successful while remaining true to DIY ethics.
"The scene here, in general, feels much more inclusive, and intentionally inclusive," Beyer said. "People are going out of their way to book diverse shows and not just make it about who they're friends with. I think that's what is great about Philly."
Tim Mulhern can be reached at tim.mulhern@temple.edu