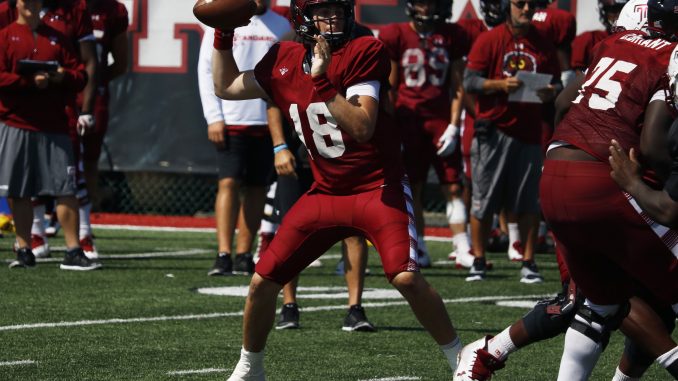 Coach Geoff Collins has yet to name an official No. 1 starting quarterback prior to the season opener against the University of Notre Dame in South Bend, Indiana on Sept. 2.
But after practice on Thursday, the first-year coach said the Owls could play up to three quarterbacks against the Fighting Irish.
"I just know as a defensive coordinator for such a long time, when you have to prepare for all of these different kinds of quarterbacks, it creates stress," Collins said. "If you know that you got four quarterbacks that you're getting ready for that are all kind of the same thing, then you get to focus on just the scheme of the offense. But if you have different quarterbacks that you're having to game plan for that creates stress and that creates issues."
Collins and offensive coordinator Dave Patenaude are trying to keep their offensive game plan under wraps with each quarterback having his own specific skill set.
Collins said Temple is not opposed to playing the quarterbacks throughout different series during the game. The quarterbacks could be rotated in and out of the huddle from the sideline in between plays, he said.
Last season, while Patenaude was the offensive coordinator at Coastal Carolina University, he played a total of seven quarterbacks. Two threw for 400 or more yards and four threw touchdown passes. The Chanticleers only lost two games, both by one point.
"The exciting part about coach Patenaude's entire coaching history is every single year, he's had a different flavor of quarterback and he's had to build the offense around them," Collins said. "Last year, he had to build around that offense around seven different guys, and the unique thing here is that we've got four guys that inherently have different traits and different skill sets and different abilities."
Collins said Temple could run special packages for freshman quarterback Todd Centeio because of his ability to make plays with his feet.
Redshirt-senior offensive lineman Leon Johnson compared Centeio's game to the last true freshman quarterback to start for Temple.
"He's got wheels, that man can move," Johnson said. "He moves like [Phillip Walker]. You know 2013 when Phil was running around stuff like that, that's what he looks like. He can move, he's in and out of cuts, he's quick and he got good running vision and he's strong as hell."
'Above the line'
The team will publish a non-traditional depth chart on Monday.
Instead of listing the top three or four players at each position, it will organize those considered to be "above the line," or ready to play in a Division I football game, by Collins. There will be "six or seven linebackers," Collins said. Players at each position will be listed by uniform number, not by first-team or second-team.
Those "below the line" are in a developmental stage, he said.
"We're very open, very honest in our praise," Collins said. "We're very open and very honest in our criticism. We want every single kid in our program to get better."
When asked if he expected to have the group of players doing strength workouts on the sideline available to him on Sept. 2, Collins nodded his head yes. The group included sophomore wide receiver Isaiah Wright, redshirt-junior wideout Ventell Bryant and redshirt-junior linebacker Jared Folks. Wright had 42 carries for 232 yards last season and caught eight passes for 74 yards. Bryant led Temple in receiving, and Folks recorded 32 tackles and an interception in 13 games.
Senior punter Alex Starzyk returned to practice on Monday and said he will be ready if called upon during the season opener. The team suspended Starzyk indefinitely during spring camp. He said he always knew he'd eventually return to the team.
Starzyk practiced in his native New York during his suspension.
"I've been getting ready this whole time," he said. "It's not like I just came in and started this week. I've been getting ready this whole summer, past four years, I've been getting ready."
Freshman walk-on punter Connor Bowler joined the team during Starzyk's absence. Starzyk said he'd definitely trust Bowler on the field if needed.
Senior Bowl watch list announced
The Senior Bowl announced its watch list for the 2018 game. Five Temple players — Johnson, defensive back Sean Chandler and Mike Jones, fullback Nick Sharga and wide receiver Keith Kirkwood.
Forty-two players from the conference are on the watch list, which is the fifth most of any conference. The Pac-12 has 45 players, Atlantic Coast Conference has 52, Big Ten has 61 and the Southeastern Conference leads with 70.