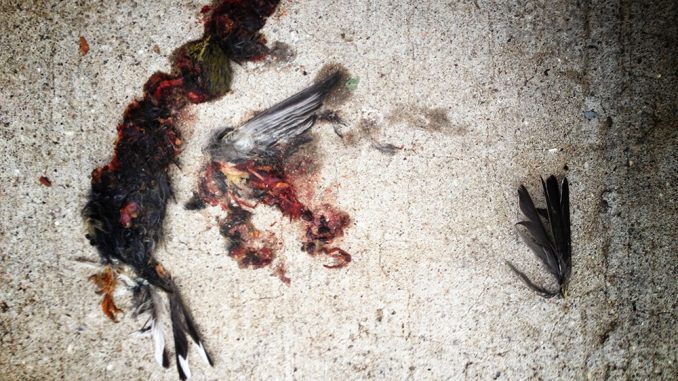 The Audubon Pennsylvania Society and Temple's grounds department estimate more than 1,000 birds have died on Main Campus in 2013, mostly after flying into buildings. The university has spent years trying to figure out how to stop it.
After a study in 2008, officials from The Philadelphia Zoo, The Academy of Natural Sciences and The Audubon Pennsylvania Society discovered the university was one of the central locations for bird deaths in Philadelphia.
"We started asking people for information about where they knew in downtown Philly that there were birds colliding with buildings," said Keith Russell, the bird census and science and outreach coordinator for the Audubon Society. "The one place that we kept hearing about more than any other place was Temple."
Russell has been working with the Audubon Pennsylvania Society since 2003 and initially began working with Temple in 2009 to begin monitoring the bird deaths on campus.
Together with Glenn Eck, the superintendent of Temple's grounds crew, Valerie Peckham, conservation program manager at the Philadelphia Zoo and The Academy of Natural Sciences, Russell was able to pinpoint places on campus where deaths seem occur the most. The TECH Center, Beury Hall, Alter Hall, Ritter Hall and the passageway connecting Paley Library and Tuttleman Learning Center are where the team found the largest areas of concern for bird safety.
According to the National Audubon Society, there are an estimated 100 million to 1 billion bird deaths per year due to window collisions in North America alone. Approximately 85 different species are killed in Philadelphia and many of those species, like the common yellowthroat, oven bird and white-throated sparrow can be found on Main Campus each year.
The dead birds can be seen throughout campus and to many students the problem is hard to ignore.
"I wish there was a way to stop it or at least reduce it, because not only does it damage the bird population, but it's also a public health issue," senior political science major Charles Lindrooth said. "Rotting animal carcasses breed all kinds of fun diseases that you don't really want."
Todor Raykov, a graduate innovation management major, said he noticed the bird deaths mainly around Alter Hall and, like many students, wondered about the cause.
"I was wondering what was happening. I was wondering if someone was poisoning them or what," Raykov said.
Many factors, such as the construction of new buildings, changes in weather patterns and bird populations going up can contribute to the masses of bird deaths, experts said.
"This particular migration, we don't have any active monitoring going on mostly due to lack of staff," Eck said. "It's also the fact that we have so much base line data that mostly now we're interested in monitoring [where] we have a project in place."
In an effort to prevent collisions Eck, Russell and Director of Sustainability Kathleen Grady have been working to make alterations to Temple's building designs.
"We've been conducting research about bird collisions," Grady said. "We facilitate the research, but then we're also working on trying to implement some of those findings."
In one alteration, Beury Hall was netted during last fall's migration season.
"The birds can't hit the glass because they can't get to it. They hit the netting and bounce, and we haven't had any dead birds where the netting is," Eck said.
The newly opened Morgan Hall has fritted glass on its windows, a technique that uses little dots on the surface to break up the surface image and thus deter birds from flying into it.
An ongoing project is also in the works with students from Tyler School of Art.
Molly Denisevicz, a junior at Tyler, won the "Bird's Eye View" contest in spring 2012.
"This was an excellent opportunity for students to learn about an important environmental problem and to share that with the Temple community through their work," said Alice Drueding, a Tyler professor and coordinator of the contest.
The contest called upon Tyler students to create visual options to help prevent bird collisions on campus. Denisevicz's image will be used on the passageway connecting Paley Library and Tuttleman Learning Center, and will be mixed with deterrent film being implemented there in mid-November.
"We're hoping we can start with this, can encourage other places on campus to be interested in doing something like this, because there is so much bird collision activity around campus," Russell said.
Sarai Flores can be reached at sarai.flores@temple.edu.