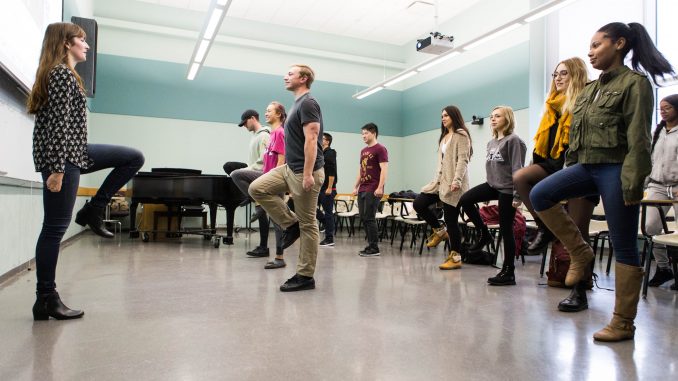 Elizabeth Bergman grew up watching Michael Jackson evolve as a musician and dancer on channels like VH1 and MTV.
One of her favorite songs by Jackson has always been "Stranger in Moscow," because she thinks it's one of his "most moving vocal performances." For dancing, Bergman prefers "Don't Stop 'Til You Get Enough," which she calls his "most joyful song."
"I like his music, I love his dancing and I also am quite compelled by his sort of tragic career trajectory," Bergman said.
Bergman, a third-year dance studies Ph.D. student, has been studying Jackson and his dance moves for seven years.
Now, she teaches the class, Michael Jackson: Entertainer, Artist, Celebrity, which was first offered within the Boyer College of Music and Dance in Spring 2017.
The class allows students to observe Jackson's music and dance career through the lens of race, gender and sexuality.
"The cultural context in which he grew up was right after the civil rights era, so we highlight the fact that he was in Motown Records and achieved this sort of crossover success," Bergman said.
The class also discusses Jackson's creative contributions to popular culture. Students learn snippets of Jackson's choreography for songs like "They Don't Care About Us" and 'Thriller,' too. Bergman teaches dance in the course because of her own passion.
Bergman also brings in copies of Jackson's popular vinyl records to pass around to the class.
"I am always curious to know about what my students know already," Bergman said. "And it seems like there is a pretty diverse mix of things that people know about Jackson, and also things about pop culture."
Jessika Jessie, a senior human resource management major, decided to take Bergman's class because she has always loved Jackson's music and wanted to learn more about him than just what she sees in the media.
"I knew a decent amount from watching 'The Jacksons: An American Dream' movie all of the time growing up," Jessie said. "I also looked information up about him on Google from time to time, like I knew he had eight siblings, and he's from not too far from where I grew up in Chicago."
"I admire Michael Jackson's humbleness, creativity and personality," Jessie added. "Michael Jackson…appreciated his fans, because they're the reason why he was there. He was humble like that."
Along with his cultural legacy, Jackson was often in headlines because of his personal life. Even after his death in 2009, Jackson has been accused numerous times of child sexual abuse.
In the class, Bergman tries to be as sensitive as possible when she discusses Jackson's sexual abuse. She remembers being in middle school when many of the allegations were presented against Jackson in the media. Although the class discussed some of the details of the abuse, Bergman focuses more on the media's response.
"We looked more at the media spin of it and the fact that he was proven guilty in a court of public opinion, and the damage to his reputation in a U.S. standing," Bergman said. "As opposed to focusing on what the accusations were, [focusing on] what the media did with all those accusations."
As Jackson's sexuality and race were often topics of discussion in the media during his lifetime, Bergman teaches her students to think critically in trying to sort through information about the icon's legacy.
"In terms of his racial identity, and not being 'masculine' enough, there was always a question around how heterosexual he was," she said. "So we make judgments as a class and look at how his presence upset people in a number of different ways and maybe what that means about society and culture."
A few weeks ago, Bergman had her class watch the music video for Jackson's song "Bad." They then read several stories published in the Village Voice that criticized Jackson's appearance, she said.
One article, which was published in 1987, was written by Greg Tate, an African-American writer who writes about Black culture and music. Tate wrote had Jackson's music has changed since "Thriller" and since the pigment of his skin changed.
"Only in the twisted aspects does 'Bad,' mostly via the 'Bad' video, outdo 'Thriller,'" Tate wrote in the Village Voice. "After becoming an artificial white man, now he wants to trade on his ethnicity."
Bergman will not be instructing this class in the spring because of her Ph.D. requirements, but it will be taught by another professor.
"I encourage students to take the class because it is an opportunity to learn about an important figure in pop culture history," Bergman said. "Along with it, they see the different ways that different types of media communicate and the class offers opportunities to think about how  information is disseminated in our media-saturated society."