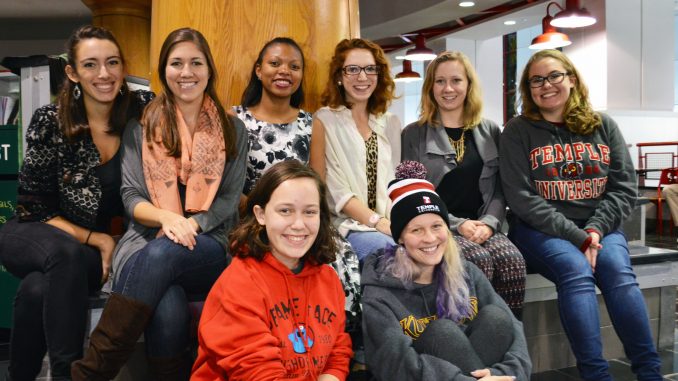 When the Temple Tappers perform, they like to keep things classy.
That's how Alaina McNaughton, a senior history major and president of the Temple University Tappers, described the black and red dress the members usually wear during their performances.
Though group members feel the club is well-organized now, McNaughton said she had no idea how to market it when she initially started.
"I remember that we were all just trying to be so professional, and it was funny," McNaughton said. "When I came here freshman year, there were a lot of dance clubs, but tap is just so cool and fun."
McNaughton and another current member of TU Tappers decided to start the organization because of their love of tap dancing. Their proposal for the club was approved by student affairs in 2011.
"We were freshmen at the time and really had no idea how to get the club started," McNaughton said. "We ended up finding some people who lived in the Peabody dorm who were interested and went on from there."
The tappers' first performance was held at the Temple University Performing Arts Center last year. Since then, the group's presence has thrived on Main Campus.
Maggie Lindrooth, a junior Russian major and vice president of the club, who joined last year, said it has been a 'magical' experience.
"I was initially really nervous, because I never auditioned for a club before and I thought everyone was a senior, which wasn't the case," Lindrooth said. "I became comfortable after I saw that everyone was just hanging out and tap dancing, having a good time."
Though no one was cut from the auditions the year Lindrooth tried out for the club, she said many of the new members who initially were accepted ended up dropping out.
"Everyone was at auditions, but then only about four people would actually show up to the practices," Lindrooth said. "Our first performance in TUPAC had about 10-12 members."
McNaughton said that after TU Tappers established an executive board and created a better marketing strategy, the club attracted more dancers. All of the club's performances now have more than 20 members participating.
Alyson Cohen, a sophomore elementary education major, is the TU Tappers Temple Student Government representative.
"The experience was very informal," Cohen said. "I was glad that I found this club, because I've been tap dancing since I was five after following in my sister's footsteps."
Cohen said the club is working on new choreography.
"We have a general tap warm-up, and then we go into choreography for an hour and a half each practice," Cohen said. "The new members are keeping up so far. If you learned specific skills of tap dancing when you were younger, than getting the choreography shouldn't be hard."
McNaughton also said she sees potential in the new members.
"There's a lot of good talent and a lot of good attitude," McNaughton said. "Their technique is great, and I think that this year we could really do a lot more performances."
Kara Bowen, a sophomore theater major and Cohen's roommate, said old members of TU Tappers always helped her when she needed it. Bowen auditioned for the club last year and is now in charge of its marketing.
"I always felt comfortable with the older members," Bowen said. "We really are just a large group of friends."
The TU Tappers collaborate with other groups on campus as well, Bowen said. In doing so, the club has performed at many philanthropic events across the city.
"We've performed with others at a homecoming court pageant and a Christmas fundraiser," Bowen said. "We like to support things that our club believes in."
Bowen said the club performed at a breast cancer research fundraiser last year, since the disease has afflicted many of the club's family members. Lindrooth said the tappers dance at many health-related fundraisers.
"We like to tap where there is a good cause," Lindrooth said. "If we get random emails from groups, we also most likely perform at their events."
Though performances showcase the club's tap-dancing skills, Lindrooth, McNaughton, Cohen and Bowen all reinforce that the core behind TU Tappers is the club's strong bond.
"I met [Cohen] through this club and now we're roommates," Bowen said. "Whether your meeting some potential new roommates, or just hanging with members outside of the club, we want to make this about friendships – that is the most important thing."
Sienna Vance can be reached at sienna.vance@temple.edu