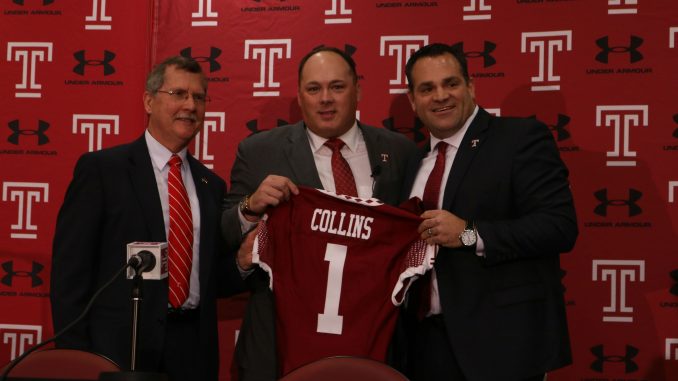 At his introductory press conference on Dec. 14, coach Geoff Collins said he'd watch the Owls as they prepared for the Military Bowl, but keep a hands-off approach.
He was talking to athletic director Pat Kraft on the sideline in the first half of Tuesday's game in Annapolis, Maryland, which the Owls lost 34-26.
Collins will retain Ed Foley, who led the Owls as the interim head coach in Tuesday's loss, and two other members of the coaching staff for next season. All coaching roles will be determined when Collins finalizes his staff, according to a university release.
Foley has been at Temple since 2008 and served in various roles, including director of football operations and special teams coach. Frisman Jackson, the passing game coordinator and wide receivers coach, and Chris Wiesehan, the senior offensive assistant and running backs coach, will also return for next season.
Collins has also decided who his offensive coordinator will be. Coastal Carolina University offensive coordinator Dave Patenaude will accept the same position at Temple, according to a FootballScoop report. Patenaude spent the last five seasons as the Chanticleers' offensive coordinator. Coastal Carolina, an independent team in the Football Championship Subdivision averaged 37.2 points per game and more than 380 total yards of offense per game this season.
Jackson played quarterback and wide receiver in college before a six-year career in the NFL spent mostly with the Cleveland Browns. He just finished his second year with Temple. In Jackson's two seasons at Temple, the Owls have broken their single-season passing yards record. Temple broke the record set in 2013 with 3,037 yards last year and finished this season with 3,324 passing yards.
Wiesehan joined the Owls' staff for the 2014 season and has been coaching for 22 years. Former center Kyle Friend made second-team all conference in 2014 when Wiesehan was the offensive line coach.
Evan Easterling can be reached at evan.easterling@temple.edu or on Twitter @Evan_Easterling.