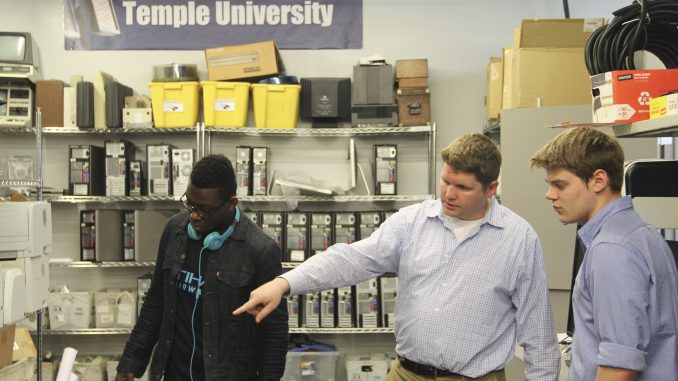 The Computer Recycling Center first opened on Main Campus in 2003. To help save the environment from toxic technological waste—and to save money in the process—the CRC accepts donated electronics, refurbishes them and sells them back to students for a discounted rate.
In an effort to increase the center's business, the CRC relocated from the Tech Center to Pearson Hall Room 152 this semester.
The store officially re-opened last Tuesday, Feb. 2, and received about 20 orders that morning.
"We had no exposure before," said alumnus Jonathan Latko, the director of the Computer Recycling Center. "No physical store exposure."
"We were looking for creative ways to lessen the burden on tuition dollars and create a model that could actually produce income," he added.
Latko earned his MBA from the Fox School of Business in 2003, and that same year, Temple opened up the CRC, which originally served as a recycling program for old technology.
Latko said Temple had thousands of pieces of equipment in storage which needed repair. In order to get rid of these products, the university hired special facilities to dismantle the equipment.
The CRC opened to combat that problem. Latko jumped on board and revised the original idea, turning the center into a store with a refurbishment model.
"Initially, it was just to collect it and divert it from the main waste stream, which was either landfilled or incinerated, and then send it to people who can de-manufacture it," Latko said.  "Then we grew it into a refurbishment program."
Incorrectly disposing of computer parts can be hazardous to the environment, Latko said. It can also have negative effects on humans if they are exposed to the waste.
"One of the biggest challenges we face is that most of Temple's trash goes to an incinerator, so any kind of toxic metals that are incinerated can go into the air, water or stream depending what is done to it," Latko said.  "Lead in the air, cadmium, all of these heavy metals that exist, you don't want to burn that stuff."
The center handles many aspects of technology, including monitors, printers, toner cartridges and cell phones. All of the products are posted online, and customers can apply to purchase the products on a first-come, first-served basis.
"We are moving about 90 tons of equipment from the university every year, which equals about 7,000 or 8,000 pieces of equipment," Latko said.
The Office of Sustainability works closely with the CRC to promote positive environmental practices around campus. It's a mutually beneficial collaboration, said Katherine Switala-Elmhurst, the program manager at the Office of Sustainability.
"All of our computers here actually have come from the Computer Recycling Program," Switala-Elmhurst said.
Kevin Magerr, an adjunct professor of environmental science, promotes the CRC through his lesson plans.  He takes his classes on sustainability tours every semester to raise awareness for environmentally sustainable initiatives on campus.
"I do a sustainability tour of the campus each year, and as part of that, I go to the Computer Recycling Center to let students be more aware of the recycling activities that go on around campus, especially with electronic waste," Magerr said.
The CRC currently has three full-time employees and about 10 to 15 student workers. The center is open Monday through Friday from 8:30 a.m. to 5:30 p.m.
Latko said he is positive that the new location will provide success for the business.
"We grow, we get more employees, our budget grows based on sales, but we never had a physical store location,"  Latko said. "The university has invested heavily in us, and essentially, we have a storefront on Broad Street which is amazing. I never would have dreamed that."
Alexis Rogers can be reached at  alexis.rogers@temple.edu.