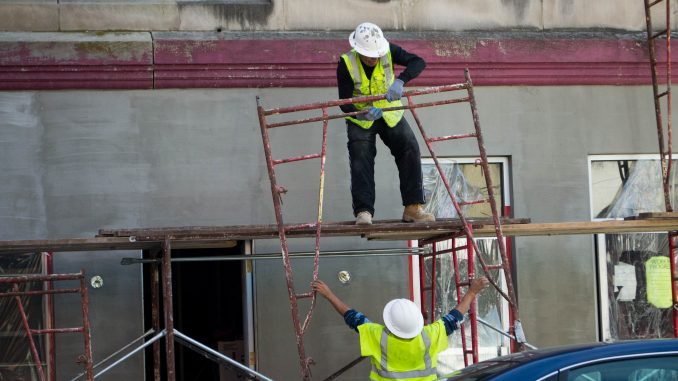 Across from a four-story building that has been under construction for five years, churchgoers at the North Philadelphia Seventh-day Adventist Church walk by for the 11 a.m. service without a second glance.
"[This building is] going to be great," said Michael Davis, a member of the church. "We're going to open venues to give out clothing."
Davis said he believes the clothing donations will help Temple students.
For several years, the large building on 16th Street near Oxford has been under construction.
Mel Glover, a bicycle patrol officer for Campus Safety Services whose patrol includes the block where the construction has been taking place, said construction had stopped some time in 2015 before resuming in March 2016.
According to Licenses and Inspections records from the Office of Property Assesment's website, the first permits for construction were filed in 2011.
Construction workers at the site did not say when the building would be completed.
"They've been doing construction for a while," Glover said. "If Temple owned [the property], it would've been done already."
The construction workers said the building would become apartments, but declined to comment further. They said the contractor would be able to provide more information, but when he arrived at the construction scene, he declined to answer any questions or give his name.
The OPA's website shows that the building is owned by 1534 N. 16th Street Acquisition LLC. The website does not list contact information, like phone numbers, for any of the businesses listed with properties.
There are six reports of violations, adding up to 15 separate accounts. Seven were reported in 2012, five in 2013 and three in 2015.
Three reports showed violations of the vacant property standard set by the city, which declares that all vacant properties should be clean and safe, so it doesn't harm those walking by.
One violated a scope code, meaning construction workers did not maintain the minimum conditions and responsibilities required. According to Philadelphia's Property Maintenance Code, "All premises, whether occupied or vacant, shall be maintained in such repair and in such safe and sanitary condition that no physical damage shall be caused to any adjoining premises."
The building also violated an electrical code, in which it did not meet the standards for lighting, ventilation or plumbing.
The work site violated the facilities code, where it is required that all areas of construction need one water closet, one lavatory and one drinking facility.
There were three violations on exterior properties. Two were not detailed, but one reported a hazard on site because the walkway, stairways or driveways were not clear for workers.
In addition, four violations were listed under the workmanlike building code, which requires the building to be "executed in a skilled manner," according to the maintenance code.
"[The building] isn't causing any problems," said Tracy Johnson, a resident of 16th Street near Oxford.
He said that the construction had not been affecting the surrounding community and that the noise was not loud.
Johnson said the possibility of Temple students moving into the building when it is completed "won't be anything different than it is now."
"[The building] is helping the community out," Davis said.
 Francesca Furey can be reached at francesca.furey@temple.edu.