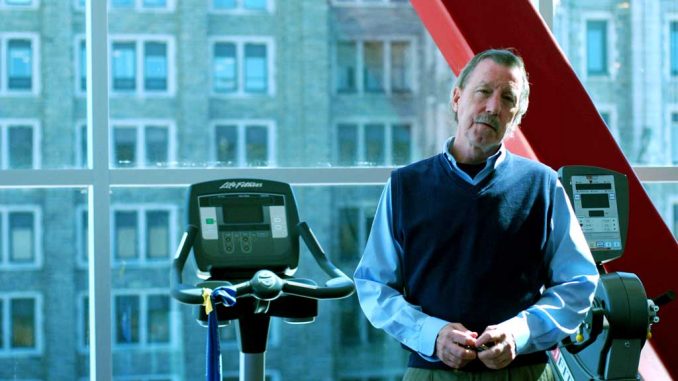 Steve Young, director of Campus Recreation and mentor to many, died this morning after a five-year battle with brain cancer. He was 59.
The 30-year employee was respected and admired for his commitment to the university and for building campus recreation from "one little shack building called the gatehouse" to the multi-use facilities and programs across campus, Associate Director John Doman told The Temple News.
His death drew reaction from the Temple community on social media:
.@TempleUniv lost another Giant today with the passing of longtime @TempleCampusRec leader Steve Young. Great man who made a difference

— Larry Dougherty (@Ldoc32) May 18, 2016
https://twitter.com/RyanKRinaldi/status/732982238372106242
https://twitter.com/RyanKRinaldi/status/732982209246793732
https://twitter.com/RyanKRinaldi/status/732982165080821763
To our Temple & Campus Recreation friends: Our Director, Steve Young passed away this morning, after a long FIGHT with brain cancer.

— Temple U. Campus Rec (@TempleCampusRec) May 18, 2016
Young received his master's degree from Temple in 1985 and became associate director of Campus Recreation in 1987. In 1990, he moved up to director of the program and a staple within the faculty community.
"All the other directors would unofficially call him the 'dean of directors' because of how long he was around and how involved he was," Doman said.
In his tenure at the university, Young's big projects included making Campus Recreation an on-campus entity by opening the IBC Student Recreation Center and Student Pavilion.
Doman said Young was especially proud to have co-founded the City 6, a partnership between recreation departments at Drexel University, La Salle University, The University of Pennsylvania, Saint Joseph's University, Villanova University and Temple.
Though he struggled with his illness during the last five years, Doman said Young never complained.
"For five years now, he's really an inspiration to strength and perseverance," Doman said. "He never complained. He continued to come to work until three weeks ago when he couldn't physically get here."
Doman said Young was his mentor at Temple, and was the same to so many others.
"He was a mentor to so many people. He was really … He was just a man full of wisdom and knowledge and a lot of experience and he loved this place," said Dean of Students Stephanie Ives.
"He was a great and really adventurous guy," she added. Ives said a picture of Young rappelling 22 floors down the side of the TUCC building in 2012 was circulating among staff today.
Young performed the feat as part of a 2012 fundraiser for Outward Bound, a youth leadership program he has been involved with since the 1970s.
"He was really the most interesting man…he just amazed me," said Bill Bergman, vice president for Public Affairs. "Ater he was diagnosed with his disease, he came back to work and he literally rappelled down the side of a wall in Center City—from a high-rise."
Along with his adventurous side, Young was wholly invested in campus recreation, said Anne Wilkinson, associate director of Campus Recreation Assessment, Training and Marketing. She worked with Young for 20 years.
"When I think of recreation I think of Steve— they're synonymous," Wilkinson said.
Young knew students partaking in student recreation never saw him, so he made an effort to thank and meet with student workers frequently. He attended all beginning training meetings and extended his thanks to students at staff parties held at the end of the semester.
"He strongly believed in student staff development," Wilkinson said. "He thought of students as more than just clocking in and clocking out, he thought about giving them life skills and how we could further their development."
Many campus recreation students have gone on to lead campus recreation departments at universities across the country.
"He launched the careers of so many people in collegiate recreation," Wilkinson said. "There's probably not a school in the country that his influence isn't at."
"He loved Temple and he loved making Campus Recreation bigger and better for our students," Ives said." She added he was a part of many conversations over the years to increase recreational space on Main Campus.
Wilkinson said she and her colleagues will miss their video conferences with him and what they called "Steve lists" on their desks in the morning with things to do.
"I can't imagine a department without Steve," Wilkinson said. "He is campus recreation."
Young is survived by his wife, Marianne, and two sons, Colin, who works in public recreation in South Carolina and Tim, who is a second-year graduate student at Temple.
Doman said while Young's illness affected him physically, his mentality and spirit remained the same.
"He was still Steve, he was the Campus Rec leader until today," he said. "He kept us moving."
Campus Recreation tweeted that funeral arrangements will be shared when details are finalized.
The authors can be reached at news@temple-news.com.
CORRECTION: In a previous version of this article, "Young is survived by his wife, Marianne, and two sons, Colin…," originally read, "Young is survived by his wife, Mary Ann, and two sons, Kyle…." The Temple News regrets the error.