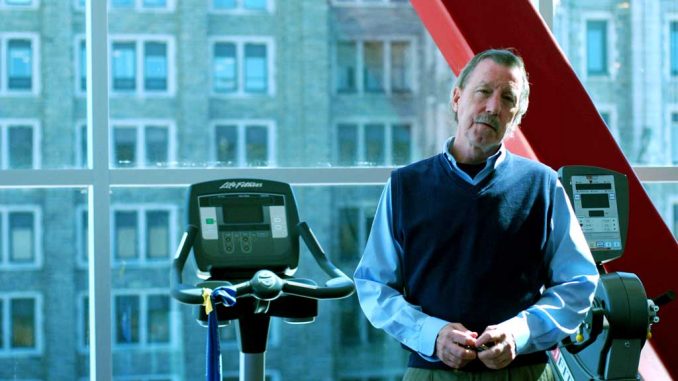 Lewis Katz sits on the board of trustees and is the chairman of the athletic committee. In the public session of the meeting where the trustees voted unanimously to cut seven sports, he specifically mentioned the crew team as one that could continue as a club team.
At that point, Director of Campus Recreation Steve Young didn't know about the eliminations. He said he found out soon before the students did, but didn't know which specific programs were on the cutting block until they became public knowledge.
"We have not been approached," Young said when asked if any of the affected sports had contacted him. "I would expect that any reach-out would probably be by athletic administration. Based on the situation, it would be appropriate that athletic administration would reach out to coordinate, massage, whatever, rather than putting that onus on individual… student-athletes."
Campus Recreation offers 28 sport clubs that roster more than 1200 total students. Young said there has not been any new clubs added in more than two years because there are not adequate resources to add any more. Young said "close to 30" inquiries for new clubs have been made since the cap was put in place.
"I would look forward to working out that resource piece to make this all work, because the only other solution is they're telling me to do it," Young said. "I don't have the authority to say 'No, this can't happen.' Hopefully we'd be able to work out the resource part to make this work depending on what the student-athletes and those affected wish to pursue with."
"Clubs, they just don't exist on their own and do whatever they want," Young added. "They're carrying the Temple name. Thereby, they have responsibility for everything from behavior to travel to their organization structure and things like that. They make most of their own decisions. It's not us. That's how the club thing works. It's a development thing for the students involved, with their officers and such. They don't have a checkbook to pay for goods and services. That gets filtered through us to get administered and taken care of. Plus we have to play eyes and ears on supervision from a safety standpoint."
The only affected varsity sport that has a sport club equivalent is men's gymnastics. Freshman Conner Fleurat, who was on the varsity team before being cut due to injury, said the gymnasts who chose not to transfer could potentially switch to the coed club team.
Rowing coach Rebecca Grzybowski said the team's first efforts will be to keep the team's varsity status, although Athletic Director Kevin Clark told reporters on Friday that all cuts are final. There are petitions circulating online to save the sports, including one for all sports and one each specifically for baseball and gymnastics.
"If that hope is non-existent, then we kind of move forward and make a plan B and figure out if a club is something," Grzybowski said. "There are some very fast club programs in the U.S. It can be done. The trick is also back to facilities – where do you do it and how do you sustain something that doesn't have a whole lot of structural support at this point."
Senior rower Fergal Barry said even if this marks the end of the program, there is "no way" the teams are going down without a fight.
"We would like to keep the program, but they sounded pretty resolute about it," crew coach Gavin White said. "I don't think they're likely to change their mind."
There is precedent for programs fundraising to save themselves. The University of Maryland announced it was cutting eight sports in November 2011, but the men's track and field team fundraised enough to save the program. The University of California announced they were cutting five sports, including men's gymnastics, in September 2010, but the team raised $2.5 million to restore its varsity status.
"We're going to do our best to get this as big as possible and get this in the national spotlights," senior gymnast Scott Haddaway told The Temple News on Friday. "To get donations, we'll do whatever we need to."
White said some of the best crew teams in the country are club teams, citing Michigan and Virginia, but there is a big factor that separates them from Temple.
"They have the biggest and most beautiful boathouses you've ever seen," White said. "If they want to build us a beautiful boathouse, then we'll talk. We could use the tents if we can keep them and we'll use them again."
"People on Boathouse Row have been calling me," White added. "They don't have enough room for all our boats, but one building here, one building there. I'm not sure if we want to run the program in pieces like that, but we're going to look into it… We could go club, but we'd have no scholarships and no financial support. I would be willing to stay and [assistant coach] Brian [Perkins] told the kids he'd be willing to stay to see the sophomores graduate. They're going to be really nasty fast. It's one of the fastest crews I've had and I'm sad that I won't be able to see it come to fruition their senior years."
Senior thrower Gabe Pickett said the track & field team is not currently pursuing the possibility of becoming a sport club, but it could in the future.
"Right now, with the timing, people are really focused on finals," Pickett said. "People are going to go home with their families and talk about what they want to do. A club could be a good possibility for a lot of people that don't want to transfer over. They love it at Temple. I love it at Temple, even outside of athletics. Or they're juniors, and transferring would just mess up their whole graduation timetable. Club is definitely a viable second option."
"We do not have a men's track & field club, but if we solve the cap problem [and] resources, with there being a women's varsity track & field, then at least the facility piece of accommodating a men's track & field club is there," Young said.
Freshman baseball player Pat Krall said there is not much interest from the team in transitioning to a club team. Young said a baseball club was not likely, as it would not work at Geasey Field due to the danger of balls hitting cars on the surrounding streets.
"Most kids will either play out the season here. and then transfer out if it doesn't get saved, or just leaving before," Kraft said. "[We're] not really interested in keeping a club team."
Young said he has already begun compiling data and facts in case the athletic department asks him for information. He said if any funds are raised to save a team, he doesn't have the authority to put their funds toward a replacement club.
Despite the obstacles to restoring these sports' varsity status, freshman baseball player Simon Mathews said he and his teammates are not giving up hope.
"We have to band together," Mathews said. "It's the entire athletic department. All the athletes, at least. We're a family. We've got the support of each other, all the other teams that were cut, and for the most part, we've got the support of the teams that are still going to be here next year."
Evan Cross can be reached at evan.cross@temple.edu or on Twitter @EvanCross.
Greg Frank, Avery Maehrer and Nick Tricome contributed reporting.