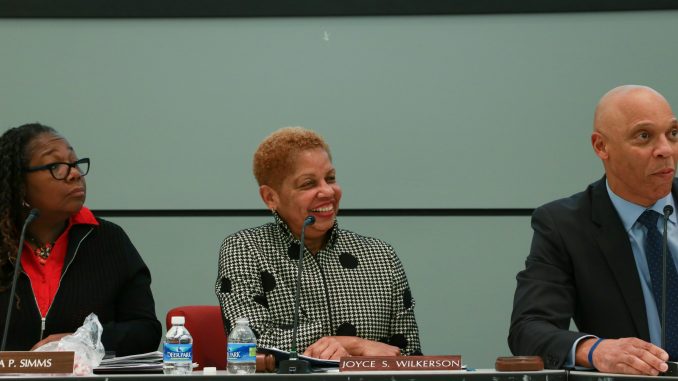 Officials said they are not concerned about conflict of interest as the university continues to take hold of seats at the top of education leadership in the Philadelphia.
In the last four months, two seats on the city's School Reform Commission, which directs the Philadelphia School District, were filled by Temple employees. Joyce Wilkerson, the senior adviser of community relations and development at Temple, chairs the committee. Two weeks ago, Mayor Jim Kenney appointed Chris McGinley, an associate professor in the College of Education, to also serve on the committee.
As of now, Wilkerson and McGinley make up half of the SRC while one seat remains empty and the Pennsylvania state Senate waits to approve Estelle Richman, the state's former secretary of the Department of Public Welfare.
If Temple becomes involved with the SRC before the seat is filled and Wilkerson and McGinley have to remove themselves from the decision-making, it would become difficult to conduct business, Wilkerson said. Three members of the SRC are needed to pass "legislation" and two abstentions would prohibit the current four-member committee from taking any action.
Wilkerson said she reached out to the general council to clarify the protocol if this problem should arise.
In December, the SRC approved the sale of Roberts Vaux High School to the Philadelphia Housing Authority, which will be managed by Big Picture Schools Philadelphia with the Big Picture Learning Network, a nationwide organization founded in 1995 that has a "student-centered learning design" where students choose their own topics of interest.
The SRC approved a $23 million contract with BPSP in conjunction with the school's sale to PHA.
BPSP is led by David Bromley, an adjunct professor for the College of Education. Will Jordan, an associate professor of urban education at Temple, sits on the board of BPSP.
Jordan said he and McGinley work closely at Temple. McGinley was not part of SRC when the committee approved the sale and management of Vaux High School.
"If the SRC wanted to see certain things happening or not happening … I kind of feel like I could call Chris and ask him," Jordan said. "I don't see it as problematic, in a sense that it would be a road block for any of the work we're doing, but I do think it's something that we would sort of have to negotiate and be sensitive to. For example, I wouldn't want to call in a personal favor."
"I envision putting checks and balances in place that might ask for 'Who sits on your board?' so we can easily identify potential conflict," Wilkerson said.
Jordan said he did not know that Wilkerson was the chair of the SRC at the time of the approval of BPSP's contract. Wilkerson also said she was unaware that there were Temple employees on the board of BPSP.
"Temple has thousands of employees," Wilkerson said. "My guess is that there is probably somebody connected to Temple. … At some point, it becomes so removed, and no one has financial interest, it becomes hard to see any kind of conflict."
Because Jordan and Bromley volunteer for BPSP, neither of them will receive money from the contract.
"I've served on other boards and committees and advisory groups and education related issues … and I am resigning from some of those organizations," McGinley said. He served on the board of directors of Public Citizens for Children and Youth, a group that advocates health care, child care, public education and family stability.
"PCCY, because they are an advocacy organization, they don't want appointed or elected officials on their board," he added. "It's been a mutual agreement."
Bromley said he is better known for being a part of Big Picture than for being a professor at Temple and that "there was nothing" that would be a conflict of interest coming into his role.
"Universities have always had close working relationships with the school district, not just Temple, but Temple and other universities," McGinley said. "Often universities are able to obtain resources that benefit the district and benefit teachers. The relationship between Temple and the school district has a long history of collaboration."
Kelly Brennan can be reached at kelly.brennan@temple.edu or on Twitter @_kellybrennan.