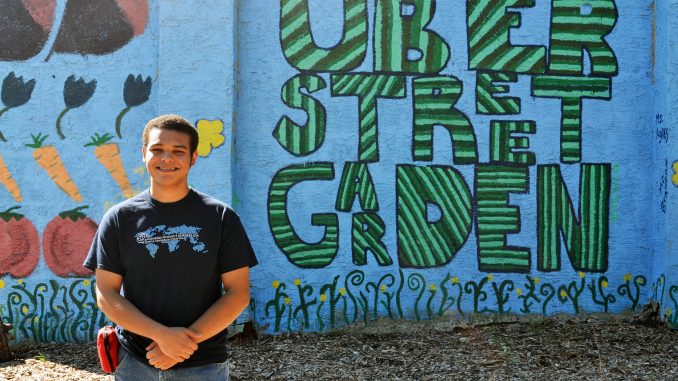 At their latest community service project, members of Engineers Without Borders collaborated with community members and group members to clean up the Uber Street Garden.
Engineers Without Borders, an international organization, strives to help disadvantaged communities in America and around the world. The group combines community service and engineering skills to help solve problems in different communities.
The Temple chapter of Engineers Without Borders was founded in 2009. Members have traveled to countries like El Salvador with the Philadelphia professional chapter of Engineers Without Borders, which requested help from the Temple chapter.
"If you're willing to roll up your sleeves and get to work for a worthy cause, then we're looking for you," said Torin Johnson, the local project lead of Engineers Without Borders Temple and head of the Uber Street Garden.
Temple's chapter currently has 13 e-board members and more than 50 general body members. Most of the group members are engineering majors, but this year the group is seeking students of any major to lend a hand.
"I've been in charge of the Uber Street Garden for almost two years and have seen many of my fellow students work hand-in-hand with the community," Johnson said. "I feel that students gain a sense of accomplishment and pride in their community."
The group cleans up the Uber Street Garden almost every Friday. The e-board members meet weekly and the general group members meet on the first Wednesday of each month.
"As an organization we try to build a family with our members, versus just shoving professionalism and academic excellence down their throats." said Asia Robinson, engineering major and vice president of Temple's chapter of the National Society of Black Engineers. "We also want our members to know that we care for the environment and we focus on giving back."
Although Robinson is a part of the National Society of Black Engineers, she also works with Engineers Without Borders. She mentioned that community service opportunities like the one held at the Uber Street Garden this past Saturday are exactly what the National Society of Black Engineers look to participate in to complete community service hours, which are a requirement.
"This is a good experience, and the park does look like it needs a little bit of help so its good that everybody came out," Steven Hoffman, a local volunteer, said. "There are quite a few volunteers, which is a great sign."
This past Saturday at the Uber Street Garden day of service there were several members from the Temple chapter. There were also members from the Philadelphia professional chapter and community members.
The volunteers spent several hours cleaning up. The jobs for the day ranged from weeding to raking debris and clearing unwanted vines from a plum tree.
"Through our weekly cleanups and events, college students and local residents alike come together, work hard and enjoy everything that Philadelphia has to offer," Johnson said.
Julia Chiango can be reached at julia.chiango@temple.edu