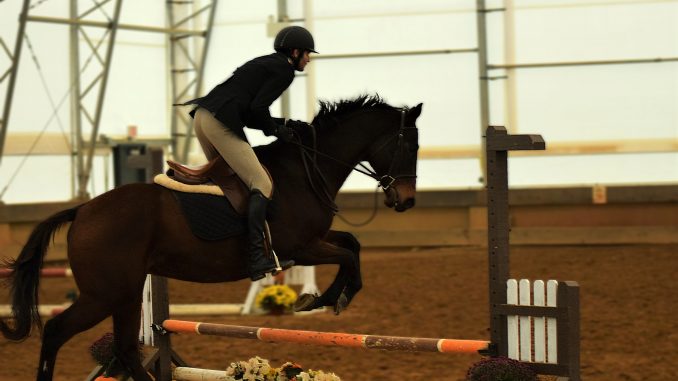 Members of Temple's equestrian club have had some unusual experiences while horseback riding. Vice President Teresa Leo once rode a horse that did not have any ears, and co-captain David Michelin, who is six feet tall, is often stuck riding horses significantly shorter than him.
Still, no one on the team has fallen off a horse in the Owls' four competitions this season.
"If someone does fall off, it's not that unusual," said club member Emmi Lewis. "At every show, one or two people fall off. Stuff happens. Horses act up."
Every week, the equestrian club travels to Jentri Stables at Stepping Stone Farm in Furlong, Pennsylvania for individual lessons. The one-hour-and-15-minute trip to the Bucks County stable is not easy to make, especially since each member has to schedule around their classes.
The equestrian club accepts riders of all skill levels in both the English and Western disciplines, but the Owls primarily focus on the English discipline. In the Western discipline, the saddle is larger, and riders can spend longer periods of time riding the horse. Members of the team said the Western discipline was the easier of the two, but the Owls do not currently have a Western riding team.
"We've had a couple of people interested in the Western team," co-captain Olivia McDowell said. "A lot of the Western shows are on the same day as the English shows, and since so many of us are English riders we have to pick because David and I can't be two places at once."
The club competes in Zone 3, Region 5, against Villanova, the University of Pennsylvania, the University of Delaware, Drexel University, Washington College, Salisbury University and Valley Forge Military Academy. The club is part of the Intercollegiate Horse Show Association. The Owls are a smaller team compared to the other schools, and fall in the middle of their zone in terms of skill level, Michelin said.
Attending lessons is required to be a member of Temple's equestrian club, but the club does not require showing, which is when members of the club are judged on their riding.
Several members have no interest in showing, but attend meetings and lessons, Leo said. There is one exception: the Temple home show, scheduled for Sunday.
"When we have our home-hosted horse show, every single person, whether they compete or not, has to be there," McDowell said.
In equestrian, the riding levels go from walk/trot to open, with novice and intermediate levels in between. The Owls currently do not have an open rider, which is the highest level one can compete at during a competition. Finding someone to replace the team's open rider who graduated in the spring is the team's "main goal," McDowell said.
The Owls' home-hosted show is the next competition on the schedule. While the Owls compete as a team, success is based on individual performance.
Individually, members are looking to advance to the regional show. McDowell made it to regionals last year and hopes to do the same again this year. Michelin is making it his personal goal to point out of both of his divisions, from novice to intermediate, to get to regionals.
"We're really passionate about it," Michelin said. "As much as it is a club sport and we want everyone to participate, we're really serious about it."
Addison Hunsicker can be reached at addison.hunsicker@temple.edu or on Twitter at @AddHunsicker11.