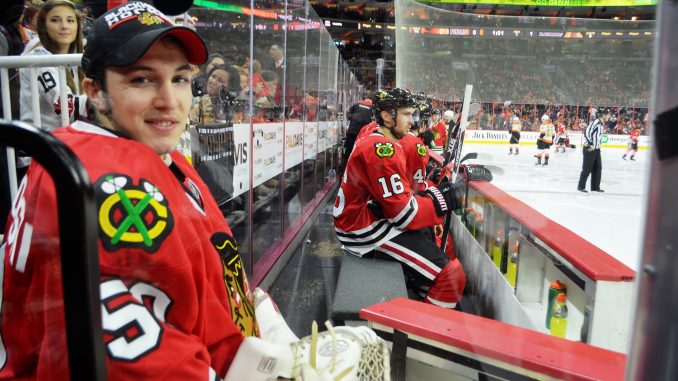 Former Temple club ice hockey coach Jerry Roberts couldn't believe what he was watching as he sat in section 125, row 15, seat 12 at Navy-Marine Corps Memorial Stadium for the American Athletic Conference Championship game between Temple and Navy.
But it wasn't the passes he saw senior quarterback Phillip Walker make against Navy's defense to lead the Owls to their first major conference championship in football history. While holding his 18-month-old in one hand and his cell phone in the other, Roberts scrolled through a slew of texts.
Roberts' former players were sending him pictures and GIFs of Eric Semborski, a former Temple goalie, skating on the ice at the Wells Fargo Center. Semborski suited up for the Chicago Blackhawks as an emergency goalie against the Philadelphia Flyers on Saturday with the words "Philly Proud" and "Temple Tuff" on the back of his mask.
"There's a lot of fake news on social media now, and when you hear it, this seems really far-fetched," Roberts said. "Because in order to be in a situation where you need an emergency goaltender, a lot of weird things have to happen."
"I was sort of skeptical of the news until Patrick Hanrahan, who played with [Semborski], sent me a picture of him in warmups," he added. "The second I saw the helmet and pads, I knew it was him. I couldn't believe it."
Semborski, a 2015 sports recreation management alumnus who played goalie for Temple for four years, signed an Amateur Try Out contract with the Blackhawks Saturday morning.
He suited up for Chicago after two-time Stanley Cup champion Corey Crawford suddenly had to undergo an emergency appendectomy. Blackhawks backup goalie Scott Darling became the starter against the Flyers.
The Blackhawks could not sign their goalie coach, Jimmy Waite, because as a former professional his salary would have counted against the team's salary cap. Roberts said professional teams usually keep a list of local goalies that played high-level juniors or in the NCAA that can suit up in case emergencies happen.
Semborski was on the ice Saturday morning at the Flyers Skate Zone in Voorhees, New Jersey, where he works as a hockey program coordinator. As he walked off the ice, Barry Hanrahan, the Flyers' assistant general manager, asked him how much playing experience he had and told him Chicago needed a goalie.
Ten minutes later, at about 11 a.m., he got a call from a number with a Chicago area code, and Semborski knew he was about to live his dream. At the time, he had no idea how the Blackhawks picked him to suit up. But he later figured out Pat Ferrill, the senior vice president at Skate Zone, was responsible for getting his name out to the Flyers.
"They were just asking me if I could do it, and what time I could be there and where to go," Semborski said. "He was telling me, 'Call when you're close, and we'll come out and get you to sign some papers for us, and we'll get you going for warmups.'"
Fresh off highway traffic, Semborski arrived at the Wells Fargo Center around noon sporting a Temple hockey beanie hat, a Snider Hockey long sleeve T-shirt and workout pants. When he came out of the locker room, he was wearing a Blackhawks jersey, skating around in warm-ups on the ice he always dreamed of playing on.
"I got the news at about 12:30 and went right to the broadcast," said Hanrahan, a former teammate and club president. "I watched that game and stayed tuned the whole time."
Semborski, who hadn't played a game of competitive hockey in about a year and a half, said every player on the Blackhawks graciously greeted him, and Darling showed him the ropes. He showed Semborski how he likes to prepare for games and what drills to expect in warmups. Darling would face five shots, then wave his hand and call Semborski into the net to finish out the drill.
Semborski saved a shot from right winger Patrick Kane, the NHL's point leader last season, who scored the game-winning goal against the Flyers in the 2010 Stanley Cup Final. Then, the Blackhawks' players started bombarding the former Owl with shots. Roberts estimated the average shot speed Semborski faced in warm-ups was probably around 80 mph compared to 50-60 mph at Temple.
The warmup shots were the only ones Semborski faced. Darling played most of the game until being pulled in the final minutes for an extra attacker.
As Semborski packed his bags after the game in the visitor's locker room, Blackhawks coach Joel Quenneville approached him to thank him and shake his hand. He also gave him one of Crawford's goalie sticks signed by every player and every member of the coaching staff.
As Semborski walked up to his car in the parking lot, Flyers center Claude Giroux pulled over his car, rolled down his window and discussed the experience of playing a game in the NHL. Semborski also talked to Flyers general manager and former goaltender Ron Hextall in the lot.
"It was cool to be in the NHL for a day," Semborski said. "It was pretty special. I'm just thankful I was able to do it."
Tom Ignudo can be reached at thomas.ignudo@temple.edu or on Twitter @ignudo5.