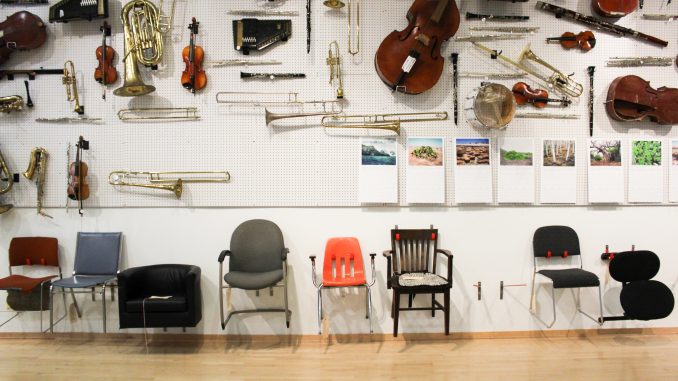 Two years ago, Sarah Biemiller and other officials from Temple Contemporary asked 75 organizations if they could borrow one of their chairs. These chairs hang on the wall of Temple Contemporary in the Tyler School of Art. Desk chairs, bean bag chairs and medicine balls are among the available seating options, which visitors can grab off the wall to sit in the gallery.
In its annual exhibition, Temple Contemporary — a gallery open to the public within Tyler — is exploring what it means to become an ally in its exhibit "Philadelphia: Take A Seat."
"This is the second year we've been using those chairs," said Sarah Biemiller, assistant director of exhibitions at Temple Contemporary. "When we used to have lectures we used to have 100 folding white chairs. We decided to start thinking about a different way of seating [for our events], but also bringing attention to the different [organizations] that are working in Philadelphia."
"We asked [75] organizations if we could borrow one of their chairs, they all agreed and so we borrowed a chair from each organization," Biemiller added, "We subsequently wrote a tag that describes their mission which is attached to their chair and all the chairs are hung on the wall."
Some of the organizations involved in this project are Clay Studio, Neighborhood Bike Works, Poetry Project and the Franklin Fountain. All of these organizations can be read about on the tags that have been added to the chairs.
Cycles PHL, a bike shop at 15th Street and Susquehanna Avenue that works with Neighborhood Bike Works, teamed up with Temple Contemporary to offer free tune-ups to Temple students last month.
"It was cool to pair with Temple Contemporary and to see students take interest in not only the free tune-ups, but also our shop," said Jake Kenney, owner of Cycles PHL. "The event was a good way to connect the community of North Philly with Temple students."
Biemiller said that throughout the history of the gallery, relationships between organizations in the city have been formed and strengthened. She added that since the relationship between the organizations and Temple Contemporary, were so strong, they all were willing to donate chairs for the exhibit.
The gallery is open Wednesdays through Saturdays from 11 a.m. to 6 p.m. Temple Contemporary is open to the public.
"We get to interact with the different people from the community that come in and they become part of the exhibition," said Alexandria Bingham, a junior art history and anthropology major who works on and contributes to the gallery.
Biemiller and her team believed that the chairs would not only be a good way of logistically seating people within the gallery for those public events, but also for people to become informed.
"When people come to attend our events they can pull a chair off the wall and have a seat," Biemiller said. "And hopefully then read some of the mission statements of some of these great organizations."
"It's a way for us for us to not only celebrate the great work that is being done in the community," Biemiller said. "But also creatively sit people who come to visit our exhibits and events."
Eileen Wickline can be reached at eileen.devlin.wickline@temple.edu.