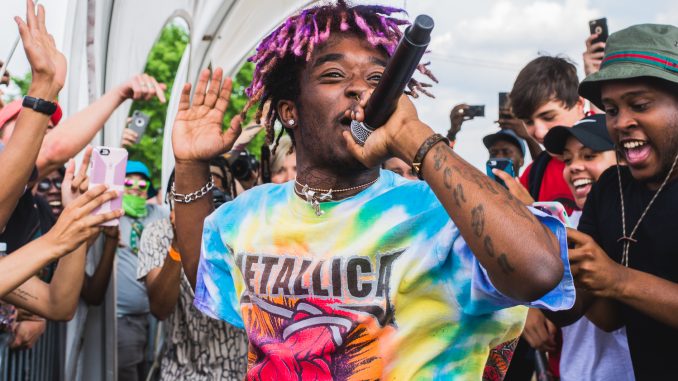 Lil Uzi Vert wanted to make sure his hair looked good.

There were only a few weeks left before he headlined a show at the Wells Fargo Center alongside other major performers like SZA, G-Eazy and Meek Mill.

So he visited his go-to barber at Mecca Unisex Salon on Cecil B. Moore Avenue near 15th Street. A couple weeks later, he returned to North Philadelphia to pop wheelies while riding an ATV on Broad Street.

"He's a people person, he's approachable, he's welcoming," said Henry Collins, the salon owner.

He added the rapper is easy to talk to and has visited the salon about twice a month for the last year.

Between showing up at an off-campus party in May and performing at the Liacouras Center last December, the 2018 "Top New Artist" Grammy nominee and Billboard Hot 100 rapper Lil Uzi Vert appeared several times on Temple University's Main Campus over the last year.

Last month, he live-streamed himself on Instagram riding an ATV down Broad Sreet, through Main Campus, across Cecil B. Moore Avenue and in front of Morgan and White Halls. Several students tweeted about his excursion.

Rap Access, a hip-hop news Twitter account, speculated the ATV ride was a part of a music video shoot. A picture the account tweeted showed a videographer recording Lil Uzi Vert with a handheld camera.


Collins said Lil Uzi Vert is just "one of many" celebrities who come by his shop, and other clients include many NFL and NBA stars in addition to Temple's student-athletes. But every time Lil Uzi Vert comes by, a crowd forms outside.

Richard Park, a junior advertising major, was walking to catch the subway when a friend texted him Lil Uzi Vert was at Mecca in October. Park joined a crowd of about 35 students outside the salon, he said, and the rapper waved to students when he left.

"It's really cool to see a celebrity hang out around campus," Park said. "Especially since he grew up around here."

Growing up in Francisville, just a mile from campus, Lil Uzi Vert's popularity began after producing in Philly recording studios and landing his 2014 breakout hit "U.Z.I." on WUSL Power99FM through DJ Diamond Kuts.

In a Genius lyric thread, Lil Uzi Vert credited producer Don Cannon, a "legend in the game," with overhearing this song and launching his career.

"He heard my song on Philadelphia radio and said he was going to fly me to Atlanta," the rapper wrote. "And he did."

Uzi was later signed to Cannon and DJ Drama's Generation Now Imprint with Atlantic Records in 2015. In a 2017 interview with The Fader Magazine, Drama said Lil Uzi Vert "is to Philly what A$AP Rocky is to New York."

Even in his escalating high fame, from winning the 2017 BET Award for Best Collaboration and being featured on Migo's song "Bad and Boujee" that topped the Billboard Hot 100, Lil Uzi Vert still centralizes himself in Philadelphia, where Collins said his recording studio is located.

"It's just him being humble," said Alexis McGoldrick, a senior speech-language-hearing science major. "It kind of sends a message to never forget where you came from, especially since so many kids on campus may be away from home now or getting ready to go away from home."

For Park, Lil Uzi Vert's interest in the North Philadelphia community will hopefully encourage students to take care of the neighborhood.

"Seeing him interact with the community in North Philly, I think it encourages students to step up a bit," he said.  

Collins said the lack of minority-owned businesses operating on Temple's campus is disappointing, but that Lil Uzi Vert is someone who can increase engagement in the neighborhood.

"He's one of the few artists that became a millionaire, that still comes to the neighborhood, and commands respect, and you can look up to him," Collins added. "It's good to see somebody in Philadelphia command that type of attention in a positive manner."

Lil Uzi Vert and his media contacts could not be reached for comment.