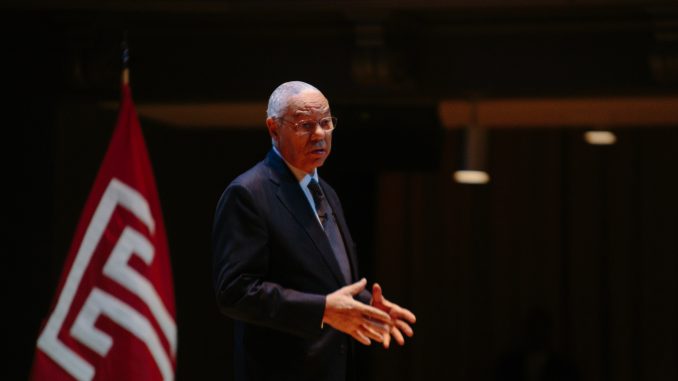 During General Colin Powell's childhood in the 1940s, the idea of a Black man becoming the chairman of the Joint Chiefs of Staff was "unthinkable."
"The country wasn't there," Powell said. "But I didn't know it, I just did the best I could as a cadet and got my commission as a soldier in the United States Army."
Powell was the first African American to serve as the Secretary of State and chairman of the Joint Chiefs of Staff, the highest military position in the Department of Defense. He spoke to students in the Temple Performing Arts Center on Tuesday for the NewDay USA Leadership Forum. The event was organized by NewDay USA, a mortgage lender for veterans.
Earlier yesterday, Powell attended the ribbon-cutting of the new Military and Veteran Services Center in Conwell Hall, which offers veterans and enlisted service members support to begin or continue a college education with academic and financial assistance.
During Powell's 30-minute speech, he shared a number of stories from his life, including memories from his childhood in the South Bronx and his tenure as Secretary of State under former President George W. Bush.
Powell said he gained satisfaction throughout his career from the quality of his work, not by acquiring impressive titles.
"People have said to me, 'Well, what was most important to you, to get promoted [to go] higher and higher and higher and higher?'" Powell said. "I said, 'No, I never had any drive or ambition to be a general.' … To me, satisfaction … was that I do my very best that day."
Powell concluded his speech by commenting on the ongoing challenge of immigration. As the child of two Jamaican immigrants, Powell said he understands the importance of immigration to the character of the United States.
"This is the strength of our nation," Powell said. "Wave after wave of immigrants like my parents who came to these shores, who came to the port of Philadelphia, who came to Ellis Island, who came from all over the world, enriched us and we must recognize that and never forget it."
Christina Klos, a senior strategic communication major, attended the event along with other students from her Leading Groups and Team Building class. She said she was surprised by the format of Powell's speech.
"I don't know if I expected it to be like a memoir of all these really awesome stories," Klos said. "I thought it would really be more about politics, but…it was lessons we can learn and utilize in any field."
"Giving a narrative helps us see how we can apply [leadership traits] to our own life," she added. "Giving a list of principles, it's sterile, it's in our textbooks, but seeing how someone went and lived it is so cool."
Jung Kim, a sophomore accounting major, said he was inspired by Powell's commitment to expressing gratitude.
Kim is also an officer in Temple's Institute of Management Accountants, an accounting, business and finance organization that provides network and professional opportunities for students. He said listening to Powell's speech motivated him to try to form better connections with other members of the organization.
"I think a lot of us nowadays sometimes lose that idea of how to value somebody," Kim said. "It's just through the simple things, too, like [Powell] shaking the hand of everybody who worked at where he was going to eat."
Powell said he found organizational success in a variety of positions by empowering his subordinates.
"Trust and respect are the glues that hold an organization together, and it's also the lubricant that keeps an organization moving forward," he said.
Ian Walker can be reached at ian.walker@temple.edu or on Twitter @ian_walker12.