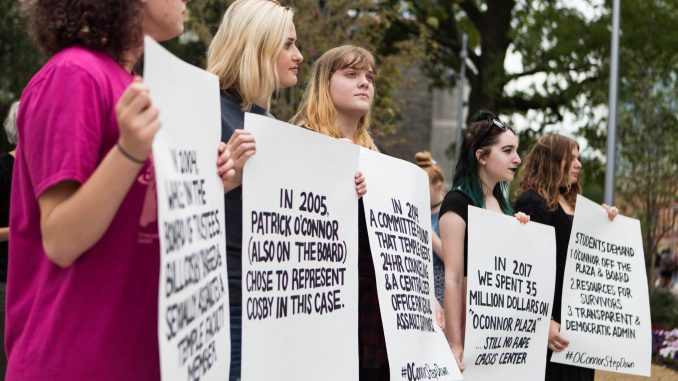 Since unveiling its initiative to remove the name of Board of Trustees Chairman Patrick O'Connor from his newly dedicated plaza and demanding his resignation from the Board, the Feminist Majority Leadership Alliance has started its "campaign of escalation."
The organization held a rally at O'Connor Plaza with other student and community organizations last Thursday. FMLA members also recently launched their email campaign to President Richard Englert and met with Dean of Students Stephanie Ives to express their concerns.
The organization teamed up with the Stadium Stompers, the Temple Young Democratic Socialists of America and the Socialist Students of Temple University for their event against O'Connor.
"We're in this for the long haul," Martha Sherman, FMLA President, said at the rally on Thursday. "Temple does not want to listen to sexual assault survivors. They want to listen to donors, because donors give them shiny things. We're here to tell them they have to listen to us because we are not going away."
Multiple FMLA members said they have sent their personal grievances to Englert as a part of the organization's email campaign, which encourages students to express how Junior environmental studies and political science major Elizabeth Olson is one of the people who wrote an email to Englert.
"It's an issue that is really important to me," Olson said. "Sexual assault is a big topic on college campuses, and Temple has taken a lot of steps to speak out in support of survivors. … I think it's an important issue they need to address, and they seem to be stepping around it a lot."
O'Connor defended former university trustee Bill Cosby in a 2005 civil suit against Andrea Constand, a former university employee who accused Cosby of sexual assault.
University spokesman Raymond Betzner confirmed that Englert does receive and read his emails, but said he could not comment specifically on communications regarding O'Connor.
Read more about the relationship between Bill Cosby, Patrick O'Connor and Temple.
Betzner referred to Englert's statement to The Temple News last month, where Englert said O'Connor has a "staunch commitment to social justice and serving the needs of the most vulnerable persons in society."
FMLA started the hashtag #OConnorStepDown, which has been used more than 20 times on Twitter since the organization's first action meeting on Sept. 26.
The following day, the Socialist Students of Temple released a statement in solidarity with FMLA.
"Temple's mishandling of sexual assault and its reluctance to make significant changes should come as no surprise when the man at the helm of Temple University has defended Bill Cosby from facing justice," the statement reads.
Dean of Students Stephanie Ives and Vice President for Student Affairs Theresa Powell met with FMLA to hear out students' concerns surrounding the O'Connor Plaza dedication. Kayla Boone, FMLA's public relations officer, said the discussions were productive.
"We explained our perspectives to them, and they gave us an opportunity to give feedback," Boone said. "We plan to have more meetings with those individuals and other organizations present."
Dean Ives wrote in an email to The Temple News, regarding future plans to convene again with FMLA, that "we agreed that an additional meeting with other representatives from the university would be helpful to ensure that FMLA is in communication with the offices and students who have been focused for years on the issue of sexual violence prevention."
Ives wrote that FMLA has not responded to the Office of the Dean's request for an additional meeting.
Sherman said she was happy with the traction the campaign is getting, but wanted to clarify her organization's position.
"I feel like the attention has been a lot on getting O'Connor off the Board of Trustees, and renaming the plaza…but we also want to be clear that we're really committed to making sure that students have more resources on campus, students who are survivors of sexual assault and that's a really important issue for us," Sherman said.
"If O'Connor steps down, but we lose resources, or we don't gain resources we will still feel like our campaign hasn't been successful," she added.