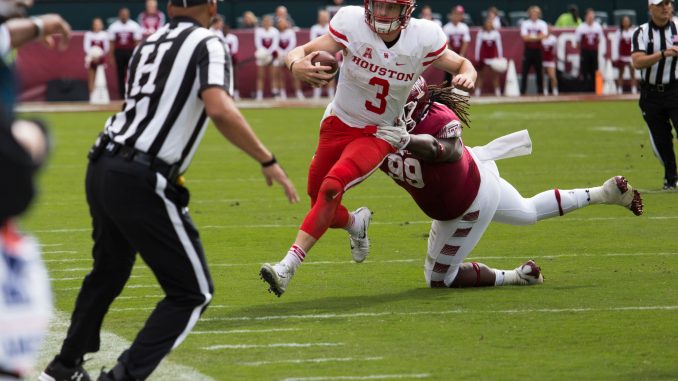 Quincy Roche hasn't played against the triple-option offense at the collegiate level.
But the redshirt-freshman defensive lineman has heard about the pace of it from his teammates who have.
"You don't play people who are as physical and as fast as they are that often," he said.
Roche will get a taste of that offense when Temple (3-4, 1-3 American Athletic Conference) faces Army West Point (5-2) on Saturday at noon at Michie Stadium in West Point, New York.
In 2016, the Owls opened up their season with a 28-13 loss to Army. Temple led, 10-7, heading into halftime, but the Owls got outscored 21-3 in the second half. The Black Knights finished the game with 329 yards rushing.
Coach Geoff Collins said while he was the defensive coordinator at Western Carolina University from 2002-05, he coached against Georgia Southern University, Wofford College and The Citadel, which all ran a similar offense to Army's triple-option attack.
In practice this week, Temple's first-team defense practiced against the scout-team offense without using the ball in some practice periods.
Collins said the drill's goal was to make sure every player remained discipline and stuck to their assignments.
Prior to the Army game in 2016, former coach Matt Rhule used redshirt-junior running back David Hood and former wide receiver Cortrelle Simpson to mock Army's quarterback on the scout-team offense.
Temple is using a similar approach this season.
Freshman quarterback Todd Centeio, senior defensive back Cequan Jefferson, redshirt-sophomore linebacker Jeremiah Atoki and freshman defensive lineman Casey Williams have all chipped in at simulating Army's offense in practice.
"Right now, practice is hard," sophomore linebacker Shaun Bradley said. "So I can't imagine what it's going to be like in the game."
Army averages 378.4 rushing yards per game and has four players who have rushed for more than 300 yards. Senior quarterback Ahmad Bradshaw leads Army with 818 rushing yards and eight touchdowns on the season.
Bradshaw rushed for 50 yards on 16 carries and a touchdown against Temple in 2016. In that game, Army only had five pass attempts.
Through seven games this season, Army has only thrown the ball 38 times compared to its  416 rushing attempts. The Black Knights have won two games without completing a pass attempt.
"That tells you right there that they are comfortable in what they do," defensive coordinator Taver Johnson said. "They really don't get into all the hoopla on what people want with the fancy passes or just throwing the ball. They're good at what they're good at, and you have to stop it. That's what they're telling you."
Senior safety Sean Chandler, who had 10 tackles against Army in 2016, said the Owls still have to prepare for the pass.
"We're still going to be back, but our focus is going to be in the box because we know they're going to run the ball," Chandler said. "But at the same time, we have to be careful for the pass. So it's all about eye discipline."
When Army played Tulane on Sept. 23, the Green Wave only had three possessions in the second half. Army beat Tulane in the time of possession battle by holding the ball for 39 minutes, 18 seconds.
Because of Army's ability to drain the clock, the Owls will have to take the lead early and force Army to throw the ball.
"With the scheme that Army runs on offense, they're going to chew the clock up," redshirt-junior offensive lineman James McHale said. "We're going to be lucky if we get seven or eight possessions the entire game. So it's definitely going to be important for us to manage our time wisely and take advantage of the opportunities we get on offense."
Notes
Redshirt-sophomore quarterback Logan Marchi was not practicing during the portion of practice open to media on Tuesday. Redshirt-junior quarterback Frank Nutile took first-team reps.
Collins said Marchi is dealing with a "lower extremity" injury, but he expects him to play against Army on Saturday. Marchi was seen on Main Campus in a walking boot this week.
Collins said if Marchi can't play, Nutile will get the nod as the starting quarterback.
Junior running back Ryquell Armstead, who didn't practice last week, is healthier this week, Collins said. Armstead was dealing a toe injury on his left foot.
Redshirt-senior offensive lineman Leon Johnson suffered an ankle injury in Temple's 28-24 loss to Connecticut last week.
Collins said he would have a better idea of Johnson's status on Wednesday or Thursday. McHale and redshirt-junior offensive Jaelin Robinson filled in for Johnson against UConn.
"Leon's getting healthier and healthier every day," McHale said. "I just gotta keep focused and prepare like I am a starter. And regardless when he comes back, I just have to keep preparing like I am."
Redshirt-senior defensive lineman Sharif Finch will miss the first half of Saturday's game due to a suspension he has to serve because he committed a targeting penalty in the second half against UConn.
Temple's plan will be the same as when Finch left the game in the third quarter against Connecticut, Johnson said. Roche and redshirt-sophomore defensive lineman Dana Levine will get more snaps. Roche leads the team with 8.5 tackles for loss.
"We rotate those guys up front, so that's the good thing," Johnson said. "All season long, we've been rotating guys at the end spot and tackle spot. So all of them have gotten playing experience throughout the season."