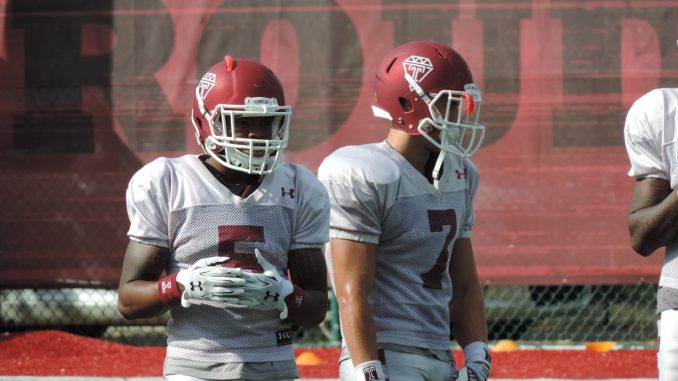 Matt Rhule has stressed one particular aspect of the game in his head-coaching tenure at Temple.
"I've always wanted them to understand, you go way back to Notre Dame last year when we lost, I always say we control how we play and we control what the outcome is," Rhule said. "It's not about anybody else."
"There are going to be times where we play a team that is flat better than us," Rhule added. "That is what is. But the way we win is we play our brand of football and we follow our process all week."
That idea looks to have come to fruition for the Owls this season. They got off to a 4-1 start (2-0 American Athletic Conference), with their most recent win coming thanks to a 14-point rally in the fourth quarter when the team had previously trailed Tulsa.
The Owls fell behind when the Golden Hurricane kicked a field goal at the start of the fourth quarter to take a 24-21 lead. Sophomore quarterback P.J. Walker responded with a 30-yard touchdown pass down the middle of the field to senior wide receiver Jalen Fitzpatrick.
Then, with less than four minutes left, Walker dumped a short pass to sophomore running back Jahad Thomas, who ran it in for a 20-yard touchdown reception.
"I was proud of our team," Rhule said. "It was the first time they've come back to win a game since we've been there. Really since [Steve Addazio's] last year when they went to [Connecticut]. So for our kids to not have the lead and come back to find a way to win. I was proud of them and that was a good step for them."
Especially since it was an issue that Temple struggled to fix last season, and even in the loss to Navy on Sept. 6 this season.
"We just said enough is enough," redshirt-junior linebacker Nate D. Smith said. "We were tired of this. We found a formula, and we finally brought in what we were going to do and just stuck to the plan."
"What we emphasize every day is just finishing," junior running back Jamie Gilmore, who had 100 yards receiving on Saturday said. "Last year we had a hard time with finishing games at the end when we need to, and now we're emphasizing being the best we can be in the fourth quarter."
Thomas expected to start
While Gilmore was getting yards through the air, Thomas was earning his yards on the ground.
In his first start in the backfield, Thomas ran for 152 yards on 14 carries. Despite getting shaken up on a kickoff return that he fumbled late in the first quarter of Saturday's win, Rhule believes the Elizabeth, New Jersey native will at least start against Houston.
"I think he'll start the game and see how he's playing, how he feels," Rhule said. "He got knocked out of the game there or a little bit, so but I would anticipate him [starting] early."
A short week
Following Temple's win against Tulsa, Rhule said, "Saturday was really a Monday," with the team's conference matchup against Houston on Friday night approaching quickly.
"It's an exciting week for us," Rhule said. "It's a short week, but it's an exciting week. I told the kids, it's 'Friday Night Lights.' We're going to Texas to play on Friday night, something you dream of. Something I thought I'd never have the chance to do, to play on national TV and represent Temple on ESPNU. I think it's a great opportunity for us and hopefully we'll play well."
Temple lost 22-13 to Houston on Sept. 7 last season. The Owls, back in their own territory, were trailing by two points late in the game, when quarterback Connor Reilly threw a pass that was picked off by safety Adrian MacDonald and returned back to Temple's 12-yard line.
Houston went on finish the short drive with a touchdown to help secure the lead with a little more than a minute left on the clock. Temple turned the ball over three times that game, which has Rhule focused on protecting the ball this time around.
"We have to do a great job of protecting the football if we want to have a chance in this game," Rhule said. "We have to build off what we did last week in running the football.
"When we got under center last week, and we gave the ball to Jahad, I thought the offensive line did a really nice job," Rhule added. "We have to find a way to do that against a really stout rushing defense."
Rhule highlighted Houston's senior defensive tackle Joey Mbu and junior free safety Trevon Stewart, who Rhule voted all-conference for last year and said he considers him the best safety in the league.
"They have players all over the place on defense," Rhule said. "That's why they're ranked so highly."
Nick Tricome can be reached at nick.tricome@temple.edu or on Twitter @itssnick215.